Latest UK Offshore Patrol Vessel HMS Spey delivered
The fifth and final new breed of River Class offshore patrol vessel made her first entry to Portsmouth Oct 30. HMS Spey (P234) arrived after construction on the Clyde by BAE Systems and a set of sea trials. She will continue her generation to warship at HM Naval Base Portsmouth before hoisting the White Ensign for the first time next year.
After delivery to the base under a Red Ensign, representatives of the Royal Navy, BAE Systems and Defence Equipment and Support gathered in the Wardroom to sign her acceptance contracts and welcome her to her base-port. This marks the end of construction for this batch of five OPVs and allows a Blue Ensign to be raised, denoting a ship in Government service.
Her first Commanding Officer, Lieutenant Commander Ben Evans, said: "This is a fantastic day for my Ship's Company, our friends and families, affiliates and everyone involved in the Batch 2 Offshore Patrol Vessel build project.
Spey is expected to be ready for operations by early summer 2021; like her sisters these will be general patrol duties, anti-smuggling taskings and providing humanitarian relief where it's needed, a Royal Navy statement said.
Having recently completed a programme of successful sea trials to fully test the vessel, HMS Spey will now join her four sister ships in the Royal Navy fleet. Thanks to a urea filter which reduces nitrogen oxide emissions from the diesel generators by about 90%, HMS Spey will be one of the most environmentally friendly ships to join the fleet.
The Batch 2 OPV programme build phase has seen BAE Systems design, construct, commission and deliver five River Class OPVs to the Royal Navy in six years.
Mike Macfarlane, OPV Delivery Director, BAE Systems Naval Ships, said: "We are immensely proud of our role in delivering these ships to the Royal Navy and this is a landmark moment for the River Class Batch 2 OPV programme, which showcases the skills and expertise we have here on the Clyde.
"Working collaboratively with the Royal Navy, the UK Ministry of Defence and our suppliers, we have successfully overcome this year's COVID-19 challenges to deliver this strategically important programme which will benefit and protect our nation's interests at home and abroad.
Mark Beverstock, Head of the OPV and Type 26 Delivery Teams at DE&S, said: "as well as delivering five ships to the Royal Navy, the OPV programme has played a crucial role in ensuring shipbuilding capability for the future while focusing on continuous improvement."
The OPV programme has provided a significant opportunity to continue to invest in new cutting-edge technologies and processes to deliver greater capabilities to the Royal Navy. It has also supported the development of new talent that will now go on to contribute to the successful delivery of the next generation City Class Type 26 ships, which are also being designed and built by BAE Systems on the Clyde.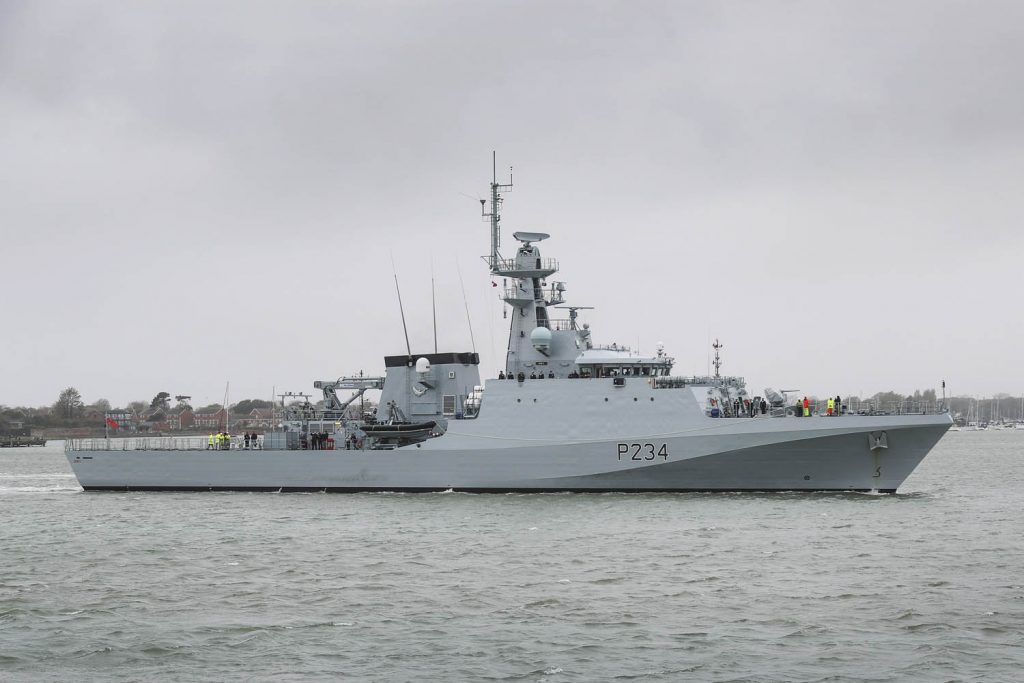 The River-class Offshore Patrol Vessel is a highly versatile base-line 90m ship design , making it a cost-effective solution for many navies, with options for BAE Systems to construct vessels at its facilities in Glasgow, Scotland, or for international customers to build ships under licenced design agreements using their own indigenous industries. A version of the ship, built in the UK, is in service in Brazil as the Amazona-class (three OPVs) while another two, known as the Krabi-class have been built in Thailand. – shp/mgm (Photos: Royal Navy)