UK's Carrier Strike Group – Supporting Training Needs Whilst On Deployment
The Ministry of Defence has the first deployed Carrier Base Simulator to support the training of the UK's Lightning fleet, the Deployable Mission Rehearsal Trainer (DMRT). Each DMRT consists of two fixed base simulator cockpits and an instructor station that are compacted into a 20ft ISO container. The DMRTs enable the Lightning Force to have the full mission simulator training experience anywhere in the world both ship embarked or shore based. The DMRTs contain the same technology that F-35 pilots use at their home in RAF Marham, Norfolk UK in the Full Mission Simulator (FMS). The major difference the FMS uses a larger pilot visual display area due to the compact nature of the ICO container.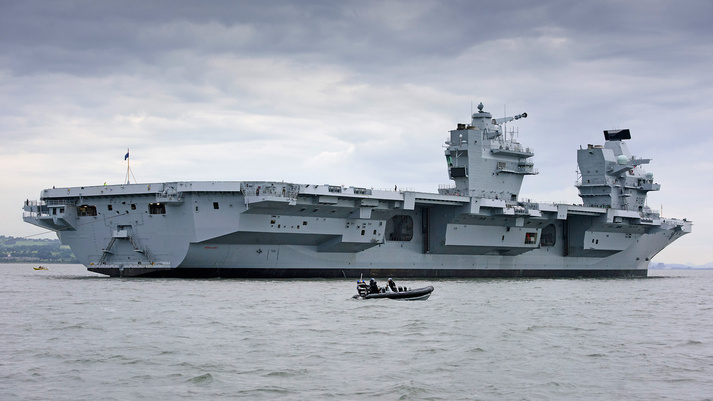 Currently two DMRTs (four cockpits) are being used on HMS Queen Elizabeth to support the Carrier Strike Group deployment. The DMRTs are being run by BAE Systems Instructor Pilots, keeping the embarked F-35 pilots current with their training. The DMRTs are also maintained regularly whilst deployed by BAE Systems Simulation Technicians, ensuring the complex systems are working effectively every day. The DMRTs are a key deployment capability for the UK's Lightning Force, enabling real-time training whilst on operations or exercises anywhere in the world. The big advantage of these deployable simulators is that pilots can keep up with monthly emergency procedure, practice four ship missions and mission rehearsal training.
When the DMRTs is based back in the UK they can be linked together to provide a four-ship training or mission rehearsal capability. There are plans to integrate the DMRT with the FMS to enable multi-ship training; as part of the F-35 Distributed Mission Training programme.
BAE Systems teams also maintain, repair and create new elements of the multispectral database for the F-35 FMS and DMRTs. These Database Engineers work collaboratively to develop a fully immersive environment during simulator training for F-35 pilots. This includes liaising with colleagues working on the Australian Fleet of F-35 as well as teams in the USA, and continuing to draw upon the expertise of the Royal Air Force and Royal Navy. This work includes creating enhanced 3D modelling of key locations, such as the STOL Strip at RAF Marham. This helps replicate operating from the Carrier and provides really useful training. Many other enhancements have been made using pilot feedback such as home airfield improvements to keep up with real time developments, such as new lighting, signage and new buildings. –bae/shp/adj (Photo: BAE Systems)