Australia's S-70A-9 Black Hawk FFMS to be Decommissioned
Australian Army bid farewell to its S-70A-9 Black Hawk Full Flight and Mission Simulator in a ceremony held with the simulator's builder, CAE. The simulator was the Australian Army's first venture into helicopter simulation and was the world's first helicopter simulator to achieve Level D accreditation.
The simulator, which has been Australian Army service in 2001 accumulated over 27,000 hours of training and revolutionised the way the service trained its helicopter pilots. During this time CAE also maintained and upgraded the device on behalf of the Australian Army.
Australian Army personnel and CAE officials marked the simulators farewell with a gathering of past and present Army pilots and CAE employees, said CAE in its LinkedIn post.
A luncheon was held and final flights were conducted for those in attendance before ceremoniously activating the emergency power off and cutting all power to the simulator for the final time.
CAE will decommission the simulator on behalf of the Australian Army.
CAE has had a significant presence in Australia for more than 20 years. CAE Australia is focused on serving the Australian Defence Force (ADF) and other regional defence customers.
Some of the major programmes led by CAE Australia for the Australian Defence Force include the management and support of ADF Aerospace Simulators (MSAAS), providing training systems and associated services for Australia's KC-30A tanker, C-130J transporter, MRH90 and S-70A Black Hawk helicopters, and KA350 King Air, among others. CAE Australia is also part of the General Atomics-led Team Reaper Australia pursuing the Project Air 7003 requirement for the Australian Defence Force.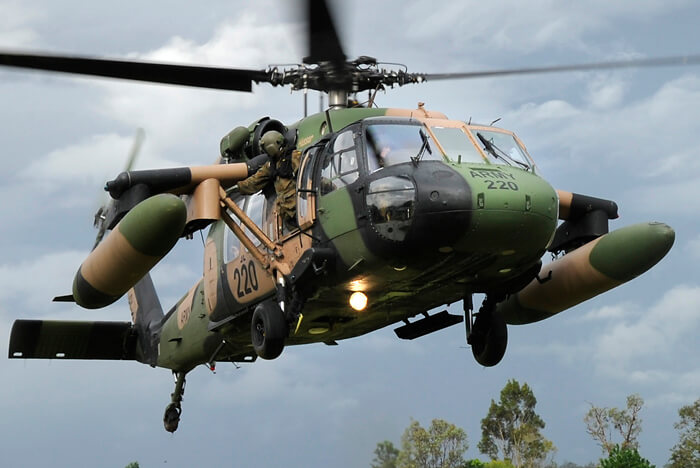 Australia acquired 39 S-70A-9 helicopters from 1988 to be assembled at Bankstown by Hawker De Havilland. The type was commissioned into service with 9 Sqn RAAF in September 1988, but was later transferred to Australian Army control in 1989.
Recently. the Australian Ministry of Defence (MoD) is planning to offer up to 27 Black Hawks for sale as it prepares to retire the helicopter type by December 2022. The helicopters are expected to be available for sale from July 2021 at the earliest.
The Black Hawks are replaced by the NHIndustries MRH90, according to the MoD. s also in the process of acquiring up to sixteen four-ton class helicopters under Project LAND 2097 Phase 4 that will replace the Black Hawk in the special operations support role. Candidates are Airbus Helicopters H145M and the Bell 429 Global Ranger. –cae/adj/aaa (Photo: Australian DoD, CAE)