Naval Forces of Malaysia, Indonesia Showcase Capability in Maritime Exercise 
The Royal Malaysian Navy (RMN) and their Indonesian counterpart,theTentara Nasional Indonesia-Angkatan Laut(TNI-AL) successfully completed bilateral Exercise Malindo Jaya which was held from Aug 29-Sept 4. The series of drills were carried out around the waters off Surabaya and the Java Sea.
RMN deployed frigate KD Lekiu, multi-role support ship KD Indera Sakti, and Super Lynx helicopter, while the TNI-AL deployed frigate KRI Raden Eddy Martadinata and fast attack craft KRI Tombak in addition to other supporting assets.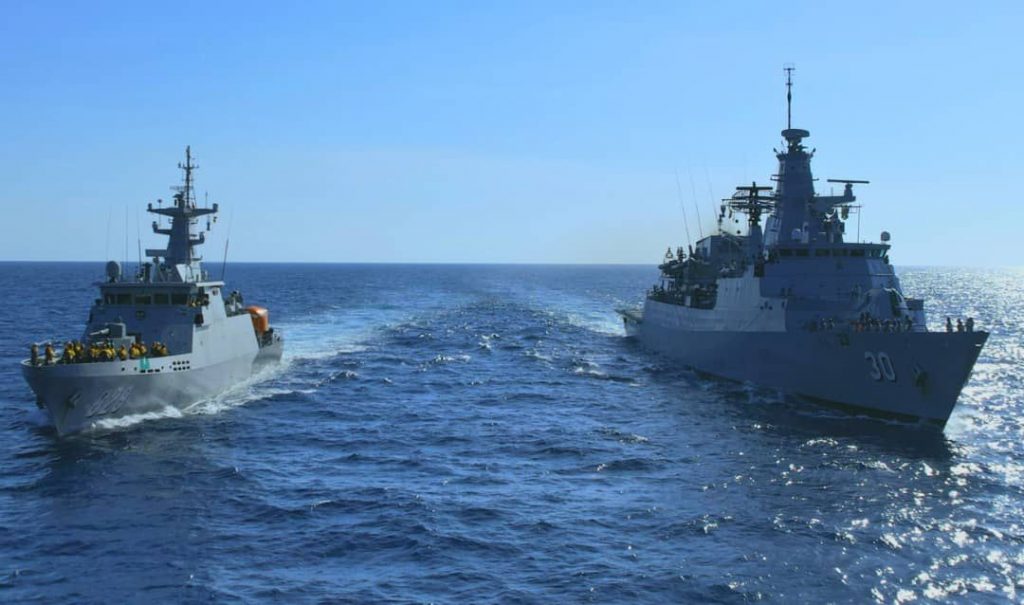 Various drills were performed throughout the exercise, such as a command post exercise (CPX), operations officer discussions, subject matter expert exchange (SMEE) between TNI-AL underwater demolition unit (KOPASKA) and RMN's Naval Special Warfare Forces (PASKAL). While on the seas, training exercises consisted of various aspects of conventional warfare and maritime security.
The exercise was officiated by the TNI-AL Commander of the 2nd Fleet, Rear Admiral T S N B Hutabarat, witnessed by RMN's Commander of the Western Fleet, Vice Admiral Datuk Abu Bakar Md Ajis on Aug 29.
The closing ceremony was also attended by Assistant Chief of Staff of Operations for the Western Fleet Headquarters, Captain Shaharuddin Bongsu TLDM as Deputy Director, of the exercise.
As Malaysia celebrated its Independence Day, members of the RMN also celebrated the event at Madura Tengah Dock, KOARMADA II on the Aug 30.
Exercise Malindo Jaya, the 26th in its series this year, successfully reinforced relations in addition to cooperation and interoperability between the RMN and TNI-AL –shp/dl/aaa (Image: RMN)