Pakistan Multinational Exercise Opens, Maritime Awareness Show Debuts
Karachi: Biennial maritimeExercise Aman opens today, marking a return with the participation of friendly nations of Pakistan from various parts of the world.
Naval and maritime forces from 50 countries participated in this year's drills – now in its eight iteration- which will run from February 10-14, which sees the deployment of ships, aircraft, Special Operation Forces, EOD Marines teams and observers.
ADJ confirms that nine ships were deployed from seven countries for the series of drills. China deployed three vessels including guided-missile destroyer PLA Nanning. Meanwhile, Italy, Indonesia, Japan, Malaysia, Sri Lanka, and United States each deployed one vessel.
Among the ships that are participating in the exercise is KRI Raden Eddy Martadinata (Indonesia), KD Lekiu (Malaysia), and SLNS Samudura (Sri Lanka).
The exercise is divided into two phases: harbour and sea. Harbour phase involves activities such as seminars, operational discussions, professional demonstrations, international get togethers and pre-sail planning of evolutions at sea.
The sea phase would include tactical manoeuvres, exercises related to maritime security such as anti-piracy and counter terrorism, search and rescue, gunnery firings and air defence exercises. Highlight of the sea phase will be the International Fleet Review, which will be witnessed by national and foreign dignitaries.
Pakistan's Chief of Naval Staff, Admiral Amjad Khan Niazi in his message, emphasised the importance of Exercise Aman as a regular feature that involves regional and extra-regional navies to create a secure and favourable maritime environment for smooth and unhindered maritime activities in the region.
This augurs well with the Pakistan Navy's aim to be a forerunner in its quest for promoting collaborative maritime security in the region.
Admiral Amjad said that the vastness of the seas makes it extremely difficult for any one nation to deal with these diverse challenges ranging from piracy, terrorism, narco-arms trafficking to climate change. Therefore, Exercise Aman is the manifestation of this acknowledged reality of combating the maritime threats collectively through cooperation and mutual support and provides enormous opportunities to the participants for shaping and rehearsing the contours of such a collective response.
Meanwhile, Commander Pakistan Fleet, Vice Admiral Ovais Ahmed Bilgrami emphasised that the principle purpose of this exercise is to provide a forum for understanding each other's maritime concepts and operational cultures, enhancing interoperability as well as identifying ways and means to combat common threats at sea.
Pakistan Navy has been actively participating in Maritime Security and Counter Piracy Operations along with other partner navies since 2004. Furthermore, since 2018, Pakistan Navy is undertaking Regional Maritime Security Patrols through which our ships maintain presence in vital sea areas in the Indian Ocean Region, to contribute towards maintaining good order at sea in accordance with our international commitments.
PIMEC Makes Debut
Meanwhile, the inaugural Pakistan International Maritime Exhibition and Conference (PIMEC) also opens today at Karachi Expo Centre. The ceremony was officiated by Minister of Maritime Affairs, Syed Faisal Ali Subzwari, in the presence of the Minister of Foreign Affairs, Bilawal Bhutto Zardari, and Chief of Naval Staff, Admiral Amjad Khan Niazi. The exhibition will run until Feb 12, 2023.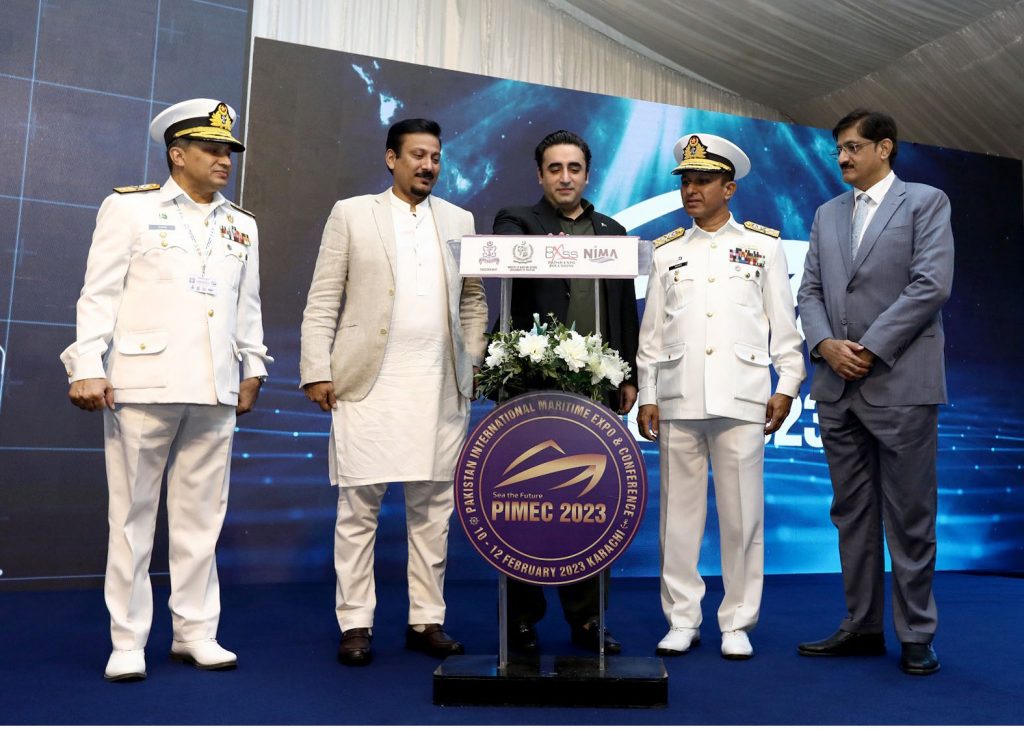 More than 130 exhibitors including 21 international firms and 112 local firms/ international organisations are participating in the exhibition. About 37 international delegations from 17 countries including Bahrain, KSA, Qatar, Oman, Turkiye, UK, Italy, Germany, Portugal, USA, Colombia, Sri Lanka Malaysia, Gambia, Guinea Bissau, Mauritius, Madagascar, Seychelles and Kazakhstan is expected to attend the event.
The highlight of the event is active participation of Sindh and Baluchistan Governments which has established exclusive pavilions aimed at promoting investment in the maritime sector.
In parallel, the 2023 International Maritime Conference, spearheaded by National Institute of Maritime Affairs, runs during PIMECE, on the theme "Embracing Blue Economy – Challenges and Opportunities for Developing Countries". The Conference, thematically distributed under four sessions, will cover 27 papers by national and international speakers of repute.
Maritime sector is the heart of global trade and economy, existing value of global ocean economy is about $1.5 trillion per year which is expected to be doubled in size by the year 2030. It can therefore be construed that prosperity of a nation and economic growth are to a greater extent facilitated by maritime sector.
Pakistan Navy therefore, in coordination with Ministry of Maritime Affairs, took initiative of bringing national and international maritime stakeholders to enhance maritime awareness and bring to fore the largely untapped maritime sector of Pakistan via the show.—shp/adj/aaa (Image: Pakistan Navy)