HAVELSAN Establishes Strategic Partnerships at LIMA'23
Langkawi: Turkish global leader in in high-technology products and innovative solutions, HAVELSAN returns to the Langkawi International Maritime and Aerospace (LIMA) exhibition, with the stronger aim to establish long-lasting cooperation with governments here in the Asia-Pacific region.
Here at the Langkawi show, HAVELSAN showcases cutting-edge C4ISR solutions, simulators and training systems, and homeland security solutions, solidifying its position as a prominent player in the industry.
One of the highlights of HAVELSAN's presence at LIMA 2023 was the ADVENT Network Enabled Naval Combat Management System, a state-of-the-art C4ISR solution. This system, coupled with digital troops consisting of Unmanned Ground Vehicles (UGV), Unmanned Air Vehicles (UAV), and Armed Unmanned Surface Vehicles (AUSV), garnered significant attention and demonstrated HAVELSAN's commitment to pushing the boundaries of technology.
During the event, HAVELSAN hosted esteemed delegations from Malaysia and numerous other countries, emphasising its global reach and influence. These high-level meetings culminated in the signing of several significant Memoranda of Understanding (MoUs) and contracts, establishing strategic partnerships and reinforcing HAVELSAN's commitment to collaboration and innovation.
Key Partnerships Formed with Malaysian Companies:
HAVELSAN and VENTURA
A cooperation agreement was signed between HAVELSAN and Ventura in the areas of homeland and security. This partnership aims to leverage both companies' expertise to develop robust solutions for safeguarding vital homeland security.
HAVELSAN and G7 Aerospace
An MOU for cooperation in projects for the Royal Malaysian Air Force was signed between HAVELSAN and G7 Aerospace. This collaboration will focus on joint efforts to enhance air defence capabilities and strengthen military aviation systems.
HAVELSAN and National Defence University:
HAVELSAN signed a cooperation agreement with Malaysian National Defence University (UPNM) to foster collaboration in the fields of command control, simulation systems, and cyber security. This partnership will contribute to the advancement of defence technologies and the development of highly skilled professionals.
During the exhibition, HAVELSAN had the privilege of hosting Malaysia's Prime Minister, Anwar Ibrahim, at its booth. The Prime Minister was provided with comprehensive information about HAVELSAN's products and solutions, shows the company's commitment to deliver cutting-edge technologies to global partners.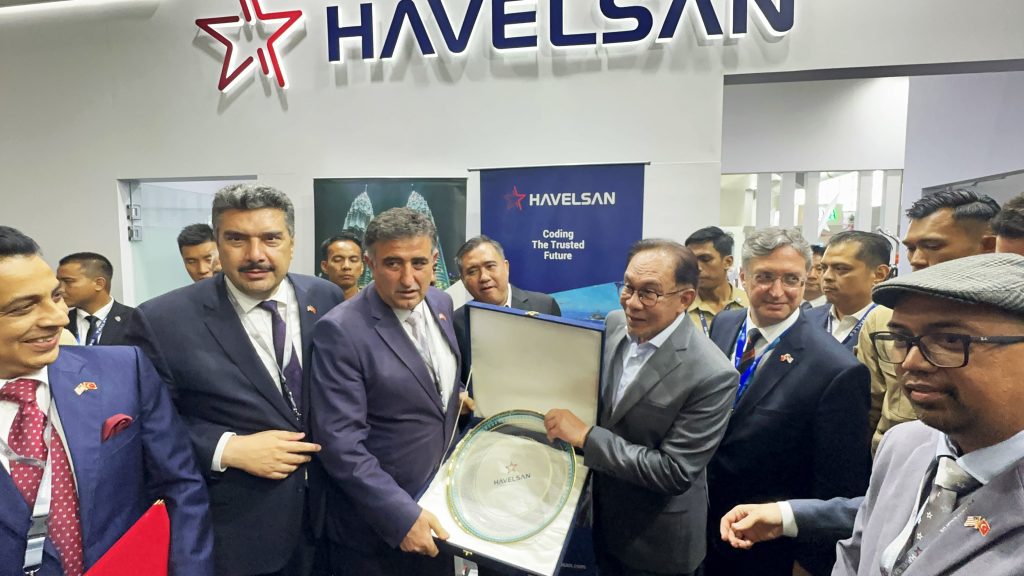 HAVELSAN's successful participation at LIMA 2023 further solidifies its position as a leading provider of high-technology solutions and its dedication to fostering strategic collaborations in Malaysia and the Asia-Pacific region.
HAVELSAN, a global technology company at the forefront of defence and security solutions, launched its local office in Malaysia three years ago. This strategic move demonstrates HAVELSAN's dedication to strengthen its presence in the region and actively contribute to the technological advancements and national defence capabilities of Malaysia. HAVELSAN's local office has been instrumental in providing innovative solutions and fostering collaborations with local partners. –shp/adj/aaa (Image: HAVELSAN)