RTX Connects New Platforms as Battlefield Nodes
RTX demonstrated advanced AI-enabled communications systems to rapidly distribute data to coalition partners during the second round of the US Indo-Pacific Command's Northern Edge 2023 exercise series at Kadena Air Base in Okinawa, Japan.
Collins Aerospace, an RTX business, expanded upon the airborne, platform-agnostic data hotspot that the company debuted during the first Northern Edge exercise in Alaska earlier this year. Leveraging the company's cross domain solution, advanced AI-enabled communications, and intelligent gateway technology, Collins connected partners from The Five Eyes alliance and others to the data network, expanding joint force capabilities during the demonstration.
"This was a critical demonstration to prove our solutions can facilitate and enable connectivity for a large and growing joint force network," said Elaine Bitonti, vice president, Connected Battlespace & Emerging Capabilities for Collins Aerospace. "It's important to understand that the joint fires data our systems processed and distributed came from a large network of platforms that weren't originally designed to connect and share data like this," Bitonti said. "Not only did our gateway and cross domain solution connect those platforms, they also automated the distribution of that data to the right partner at the right security level."
RTX's Raytheon business unit contributed to accelerating decision-making timelines, with an integrated team demonstrating how AI-enabled machine-to-machine communications rapidly delivered threat awareness data from the US Space Force's Unified Data Library to multiple aircraft, demonstrating how they can be used as connectivity nodes on the battlefield, a company statement said Aug 1.
"Our automated communications powered by AI securely provided mission data to a number of platforms including C17s, C-130s and the KC-135 in a realistic combat scenario," said Conn Doherty, vice president of Battle Management Command & Control & Autonomy Solutions at Collins Aerospace. "Northern Edge TAC-2 has been a vital proving ground to demonstrate how enabling JADC2 technologies can strengthen the Joint Force and its allies and partners' readiness to fight and win."
RTX's suite of technologies is flexible, allowing integration into a variety of platforms. The company's focus on open systems architecture development aims to support the evolving needs of the customer and the battlefield and its technologies enable synchronised operational capabilities available in every domain. Expanded connectivity to US Air Force Mobility Command assets was facilitated through an ongoing Cooperative Research and Development Agreement between Collins Aerospace and the Utah Air National Guard. The agreement is focused on extending the utility and survivability of the KC-135 by expanding the role the KC-135 can play on the battlefield as an airborne refuelling and connectivity node. –ca/adj/mgm (Images: US Air Force)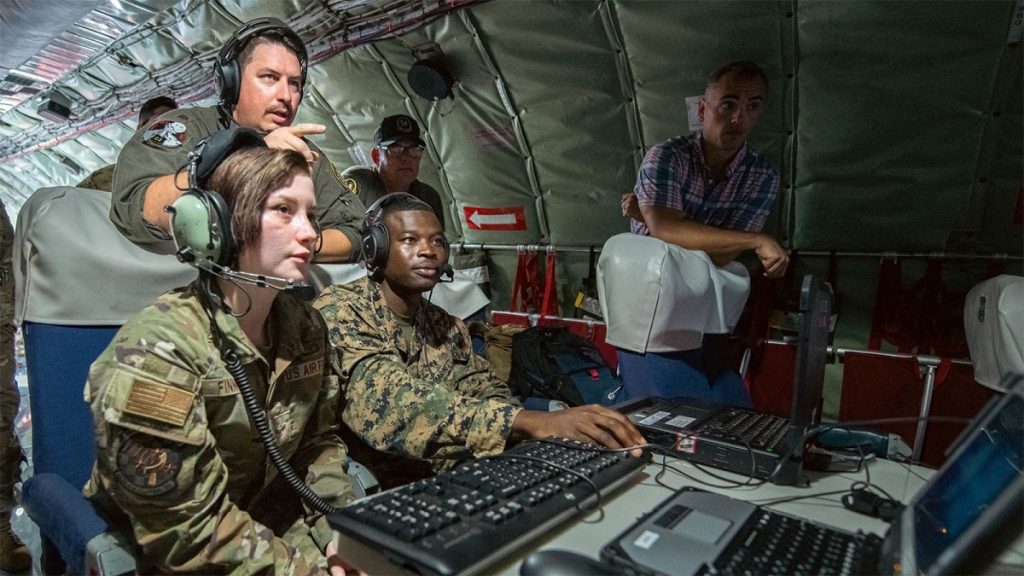 Top pix: A KC-135 at Kadena airbase during the exercise.)