Alon 2023: Australia-Philippines First Bilateral Amphibious Drills
MANILA: The first amphibious exercise between the Armed Forces of the Philippines (AFP) and the Australian Defence Force (ADF) formally opened in Darwin.
AFP in a statement said that the manoeuvres formally kicked off at the flight deck of the Royal Australian Navy (RAN) landing helicopter dock HMAS Canberra.
Exercise Alon 2023 are part of the Indo Pacific Endeavours 2023 activities for this year and the first bilateral amphibious exercise between Australia and the Philippines. "Alon" means waves in Tagalog. The drills would run until Aug. 31.
"The term "waves" signifies the characteristics of amphibious warfare and emphasises the projection of ground and air power onto a hostile or potentially hostile shore," said AFP public affairs office chief Lt Col Enrico Gil Ileto.
"The IPE23 is Australia's flagship international engagement activity in the Southeast Asian and Indian Ocean region," Ileto said.
IPE aims to promote security, stability, and stronger partnership through bilateral and multilateral engagement training, capacity building and humanitarian efforts.
The opening ceremony started with the acknowledgment of participating militaries including the 111 contingent from the AFP who were aboard the ship, commanders of participating RAN and ADF units and representatives from the United States Marines Corps (USMC).
Exercise Alon 2023 will be held at various training locations in the Northern Luzon Command and Western Command with ground, aviation and surface assets from ADF, Philippine Navy, Philippine Marine Corps (PMC), Philippine Fleet, Philippine Air Force, and Philippine Army supported by USMC.
Overall, multiple ships and aircraft and more than 2,000 personnel will be involved in the exercise, which includes approximately 700 personnel from the AFP, 1,200 from the ADF and another 150 from the USMC.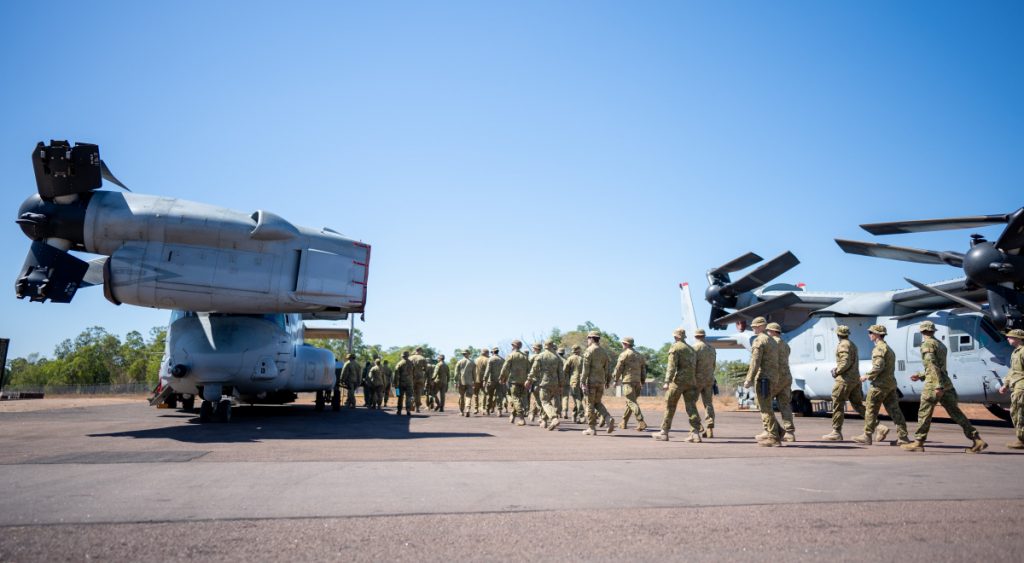 USMC personnel will be integrated with Australia's Amphibious Force and will be utilising USMC's MV-22 during the combined air assault.
The main objective of this exercise is to enhance interoperability and be able to share tactics, techniques and procedures and best practices in the conduct of amphibious operations in the accomplishment of the PMC and AFP mission. -shp/pna/aaa (Image: AustralianDoD)