Pakistan Navy's T-054 A/P Frigate Launch
The lead ship of the Type-054-class frigate constructed for Pakistan Navy was launched at Hudong Zhonghua Shipyard in Shanghai, the first of an order for four vessels as part of the service's fleet renewal programme.The Type 054A/P multi-role frigates will be most modern warships enhanced anti-air warfare capabilities.
The event has been marked as a major milestone in the construction of state-of-the-art frigate for Pakistan Navy. The Type-054-class, fitted with latest surface, subsurface, anti-air weapons, combat management system and sensors will be one of the technologically advanced surface platforms of fleet, a Pakistan Navy statement said, These ships will significantly contribute in maintaining peace and security in service's Area of Responsibility.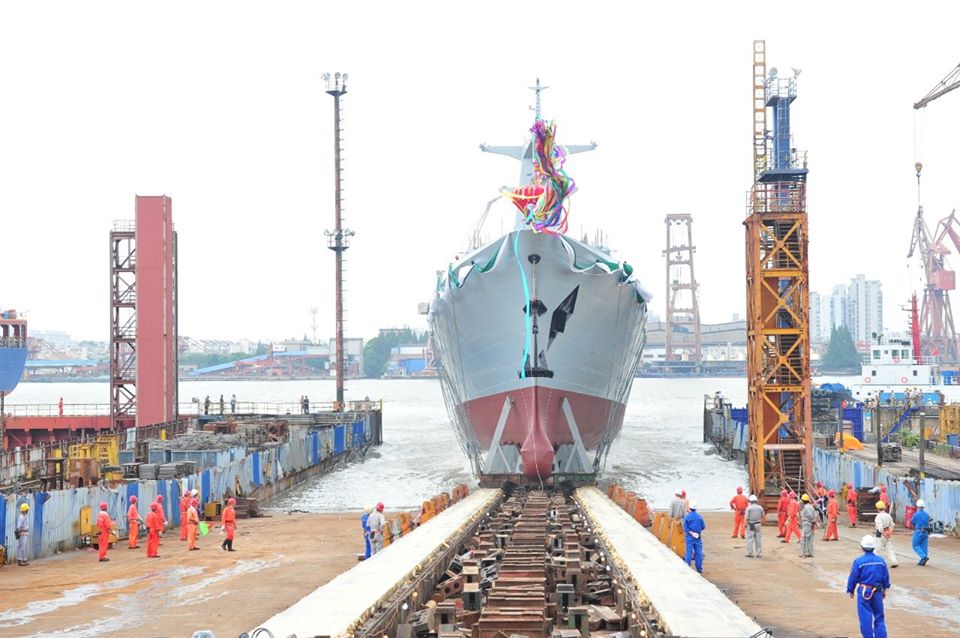 The ceremony, held Aug 22, was presided by Chief Naval Overseer, China, Commodore Azfar Humayun, in the presence of China Shipbuilding Trading Co Ltd (CSTC) Chairman Li Hongtao. It was also attended by officials of Pakistan Navy and CSTC/ Hudong Shipyard.
Addressing the ceremony, Commodore Azfar Humayun termed the event as new chapter in Pakistan-China defence relationship. He also acknowledged the commitment and dedication of Hudong Zhonghua Shipyard, China and support provided by CSTC for continuity of the shipbuilding programme despite the Covid-19 pandemic.
Equipped with a helicopter hangar, he 4,000 tonne ship has a standard range of about 8,000 nautical miles or more than 14,000 kilometres.Weapon systems include vertical launch HQ-16 medium-range air defence missiles in 32 cells that can engage aerial targets at a distance of up to 50 km, C-803 anti-ship/land-attack missiles and anti-submarine torpedo launchers, rocket launchers and 18-tube decoy rocket launchers. It has a 76mm main gun and two 30mm CIWS.
Pakistan signed a first contract for the delivery two Type 054 A/P frigates in 2017. An additional contract for two more was announced in June 2018. The Pakistan Navy is currently in the midst of modernising its fleet, with the procurement of several modern platforms including frigates from China, corvettes from Turkey and Offshore Patrol Vessels from the Netherlands, and the upgrade of its submarine force. – aaa/iz/mgm