DSA Organisers Venturing into New Business Landscape
The organisers of DSA & NATSEC Asia, the region's premier defence and security show is using its global reach to bring thought leaders and decision makers across the globe together with meaningful programmes leading towards its showcase event in 2022 on current issues worldwide.
Whilst the 2020 edition is deferred because of the coronavirus pandemic, the organisers of DSA & NATSEC Asia is grabbing this opportunity to stay connected with their audiences which are made up of industry players and decision makers.
The new situation has led them to adapt to the new challenging business landscape especially in this industry. However, with the continuous support of government agencies, the preparation of 2022 is progressing well. DSA 2022 are now actively selling space for the exhibition where there are a lot of branding and positioning opportunities.
Meanwhile, on the road to DSA 2022, the organisers, DSA Exhibition & Conference Sdn Bhd will be conducting several programmes in keeping their relevance in the industry through every means available in the new normal.
Drone Webinar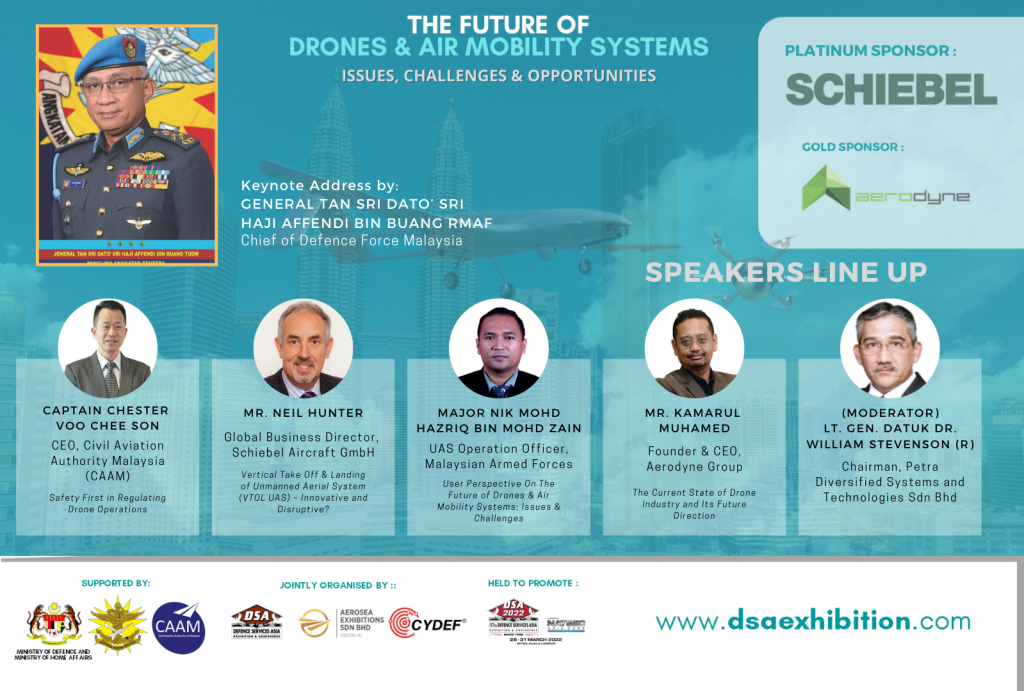 Join the webinar "The Future of Drones and Air Mobility System: Issues, Challenges & Opportunities" to get an insight and opinion about what is to be expected from the current industry development.
Date: October 19, 2020
Time: 1430 – 1600 MYT
For more information, click: http://www.dsaexhibition.com/future-of-drones-and-air-mobility-systems
Defence Security DigitalSpace
In order to help DSA visitors and participants to get connected and research products and services for their organisation, the organisers of DSA 2022 has recently established an online directory called Defence Security DigitalSpace. The Defence Security Digitalspace connect both defence and security suppliers and make it easy for buyers to explore the latest defence and security products and services from all over the world.
For branding and sponsorship enquiries, please reach out to hazdi@dsaexhibition.com or azrul@cydef.asia.