BAE Systems Hawk: Gearing Up Global Air Forces
KUALA LUMPUR/LONDON: Today marks one year since the iconic flypast of two BAE Systems aircraft types over the skies of Kuala Lumpur, the Royal Malaysian Air Force Hawk 108 and the Royal Air Force Typhoon, marking their participation in a key regional exercise.
The flypast was arranged during Exercise Bersama Lima 2019, the annual Five Powers Defence Arrangements (FPDA) exercise in what was an amazing display of the enduring partnership between Malaysia and the UK.
BAE Systems has played an important role in this partnership, having supported Malaysia's defence and security for more than 50 years, including the supply of the Hawk 108 and 208 aircraft, which provide a light combat role and also train the RMAF pilots of the future.
Today, Hawk is the most available aircraft in the RMAF fleet and partnerships formed upon its acquisition continue to deliver prosperity for Malaysia. The industry established on the back of Hawk's arrival today supports thousands of jobs in civil and military aerospace.
BAE Systems Hawk, the world's "flying classroom" has 650 aircraft in service across a global fleet and in August this year, BAE Systems announced that an Australian Hawk Mk127 Structural Test article completed the equivalent of 50,000 "flying" hours which would allow the aircraft to continue operations for many years to come.
Hawk aircraft for the Qatar Emiri Air Force are in production and the QAF will become the next customer when it receives the first of nine Hawk aircraft which will train its frontline pilots for life in a fast jet cockpit of aircraft including Typhoon well into the 2040s.
With one year having flown by, eyes are already on 2021 which will be the 50th anniversary of the FPDA and see the nations of Malaysia, the UK, Singapore, New Zealand and Australia come together to celebrate 50 years of joint training, interoperability and partnership as part of this key regional defence arrangement. According to a BAE Systems' senior official, whilst the iconic Kuala Lumpur flypast in 2019 will be hard to top, such a momentous occasion will likely be marked with a momentous celebration.
Analysts have said that the FPDA, the second oldest military partnership after NATO, remains relevant and is evolving and developing to meet current and future requirements. The key objective of Exercise Bersama Lima series is to bring the militaries the FPDA nations together in the region to develop their joint training, interoperability and understanding for the defence of Malaysia and Singapore. Next year's series of exercise, marking the arrangement's 50th year of existence, could even see a bigger deployment of UK assets, they said. –shp/aaa/mgm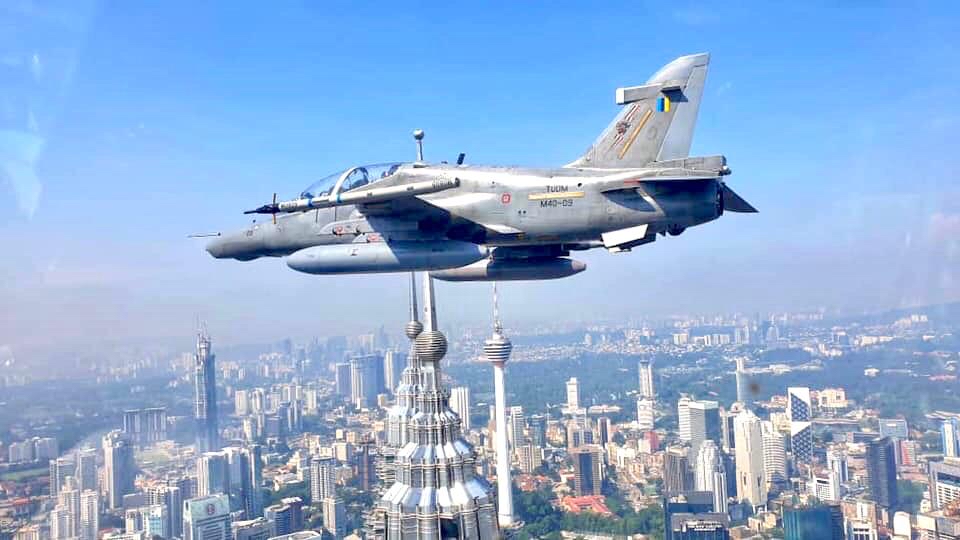 (Top photo: Four RAF Typhoon fighters in the "Diamond" formation over the iconic Petronas Twin Towers in the capital city of Kuala Lumpur. End photo: One of the three RMAF Hawk 108/208 aircraft in the accompanying "Vic" formation. Credit: Crown Copyright)