Leonardo Launch Lionfish, a New Family of Naval Turret System
Leonado has expanded its range of naval defence products with the launch of Lionfish, a new line of remotely-controlled small calibre turret systems developed and designed for small to large naval vessels.
"Their light weight, compact dimensions and safe-usage makes them the best choice for installation on small ships or as secondary armament on larger ships," a company statement datelined Rome Oct 23 said in announcing the new turret system.
Completely designed and developed by Leonardo, the new line consists of four models, which feature the most advanced technologies available on the market today; ultralight, inner reloading and top for 12.7-mm calibre weapons, and the model 20 in 20-mm calibre.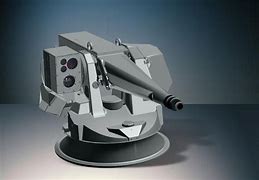 Equipped with a common architecture, the Lionfish family of turrets has a compact and low weight structure. The different models proposed make it a highly versatile solution suitable for installation on board any type of ship.
The new technologically advanced human-machine interface systems are easy to use, reducing crew training times to a minimum and the architectural solutions adopted also guarantee excellent reliability and minimum maintenance times.
The remote control of the turrets, which takes place via a local control console, and the suite of Leonardo's state-of-the-art electro-optical sensors which they are equipped with, allows the identification of targets with extreme precision, both at night and during the day.
"The compact and lightweight structure makes the system highly versatile and suitable for the most complex operational scenarios. It offers a great balance between cost and offered performance," the statement said.

Border control, prohibition of maritime traffic, self-protection and the defeat of any type of threat such as asymmetrical surface, including helicopters and drones, are among the operating scenarios in which the system is able to guarantee high effectiveness.
Designed to meet the most stringent customer needs, Lionfish integrates technologies in line with the highest market standards, and offers a great balance between cost and offered performance. –shp/iz (Photos: Leonardo)