Keel Laying Ceremony for Pakistan Navy's Second MILGEM-Class Corvette
KARACHI: Karachi Shipyard and Engineering Works (KS&EW) held a keel laying ceremony for the second MILGEM-class corvette for the Pakistan Navy. The event was held at Karachi Shipyard and Engineering Works (KS&EW).
The second MILGEM corvette, built in cooperation with Turkish shipbuilder ASFAT, are set to be one of the most technologically advanced stealth surface platforms of Pakistan Navy Fleet. The vessel is equipped with state-of-the-art weapons and modern sensors including surface-to-surface-, surface-to-air missiles, anti- submarine weapons and command and control system.
MILGEM-class corvettes feature stealth technologies and can perform search, rescue, patrol, observation, and anti-submarine warfare operations. The corvette has an overall length of 99m, a waterline length of 90.5m, a beam of 14.4m and a design draft of 3.6m. The displacement of the vessel is 2,000 tons. It can be fully operated at the sea state 5 and accommodate 93 crew members, including the aircrew. The corvettes are said to be armed with Chinese HQ-16 surface-to-air missile (SAM) system through a 16-cell vertical launch system (VLS). They will also be armed with an "indigenously developed missile system".
ADJ reported June 5 of the keel-laying ceremony of the first MILGEM-class corvette.
Pakistan signed a contract for the construction of four MILGEM corvettes with ASFAT in July 2018. The design of the ships is based on the Ada-class corvettes in Turkish Navy service. Under the deal, two ships will be built in Turkey, while the remaining two in Pakistan, by Karachi Shipyard & Engineering Works under a transfer of technology programme. The vessels are due to be delivered to the Pakistan Navy by 2023-2024.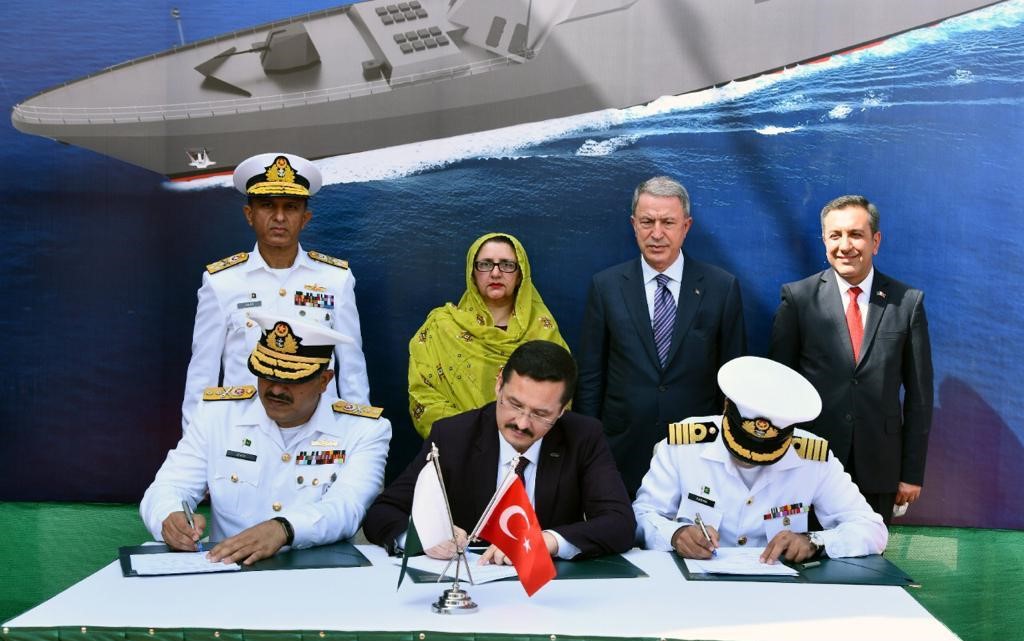 Turkey's defence minister, Hulusi Akar said that the event is a historic one for all the parties involved. He also expressed his appreciation of the commitment and dedication of ASFAT and KS&EW for the construction of the technologically advanced corvette.
Minister for Defence Production Zubaida Jalal also appreciated the commitment of Karachi Shipyard and underlined that indigenisation is the forefront of Pakistan's defence policy. This is made more prominent with the building of the state-of-the-art vessel in-country.
Managing Director of KS&EW Rear Admiral Ather Saleem said that Karachi Shipyard is fully aware and support with the goals set forth by the government and Pakistan Navy to pursue self-reliance in national defence shipbuilding industry. He emphasised that deep rooted friendship with Turkey for this mega project will open new opportunities for further cooperation in the field of indigenous warship construction and other defence sectors in Pakistan.
Also present at the Oct 25 event were Chief of the Naval Staff, Admiral Muhammad Amjad Khan Niazi, representatives of Turkish state-own shipyard ASFAT, Istanbul Naval Shipyard, top officials from the government of Pakistan, and Pakistan Navy personnel. -shp/aaa/iz