Philippine Air Force Keen on More Black Hawk Helicopters
The Philippines may acquire another batch of 16 S-70i "Black Hawk" combat utility helicopters for the Philippine Air Force (PAF), Secretary of Defence Delfin Lorenzana said.
Lorenzana said the PAF wants another 16 Black Hawks to beef up its helicopter fleet. "The chances of that being fulfilled are very big actually, so we'll see," he added.
Speaking at the acceptance ceremony for the first six S-70i "Black Hawk" combat helicopters for the Philippine Air Force at the Clark Air Base, Angeles City, Pampanga Dec 10, Secretary Lorenzana said the newly acquired helicopters would help the Armed Forces of the Philippines (AFP) in its operations. "Equipped with the Black Hawk our Air Force can now provide prompt and sustained day and night tactical lift as well as combat and non-combat search-and-rescue operations," he added.
Secretary Lorenzana was cited by the Philippine News Agency that PAF chief, Lt Gen Allen Paredes had told him that it would be more advantageous for the Air Force to be operating a single specific type of helicopter as it would be easier for them in terms of maintenance and training.
The first five S-70is were delivered via the Antonov An-124 heavy cargo aircraft to Clark Air Base last November 9 while the sixth unit arrived aboard a ship on November 27. The remaining 10 are set to be delivered to the country next year. The helicopters, costing USD241 million (around PHP11.5 billion), were manufactured by Polish company Polskie Zaklady Lotnicze (PZL) Mielec, a Lockheed Martin/Sikorsky company.
The helicopters were procured through a government-to-government transaction after  negotiations were completed in 2019, according to the Department of National Defence(DND) The acquisition of the S-70i Black Hawks is part of Horizon 2 of the AFP Modernisation Programme. –shp/adj/iz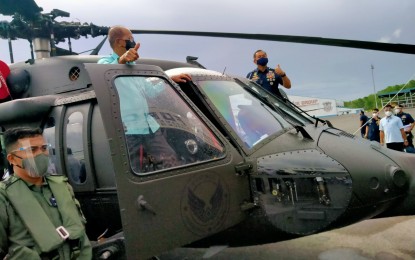 (Photos/DND: Secretary Delfin Lorenzana (left) and PAF chief, Lt.Gen Allen Paredes (right) during the acceptance ceremony for the first six S-70i Black Hawks at Clark Airbase)