Korea's Next Generation Home Grown Fighter Unveiled
Korea Aerospace Industries (KAI) finally unveiled the long awaited KFX fighter today in the Republic of Korea Air Force (RoKAF) dark grey air superiority colour scheme. Named KF-21 Boramae (Hawk in Korean), the aircraft is Korea's first indigenous fighter jet. The unveiling ceremony was held at KAI's production facility in Sacheon, South Gyeongsang. The ceremony was also attended by Indonesia's defence minister Prabowo Subianto. Earlier Subianto met his Korean counterpart Suh Wook and President Moon Jae-in on a three-day visit to South Korea to discuss military cooperation and Indonesia's partnership in the development of Korea's first indigenous fighter jet.
Indonesia is a stakeholder in the jet's development, dubbed the Korea Fighter Experimental (KF-X) project, having committed to finance 20% of the new fighter jet's KRW8.8 trillion ($7.9 billion) development cost. Aimed at building the first domestically developed fighter jet, the KF-X project has been called the most expensive military project in Korean history. Approximately KRW1.6 trillion, or 20%, is to be paid by Indonesia, which will eventually receive 50 out of a total 170 jets.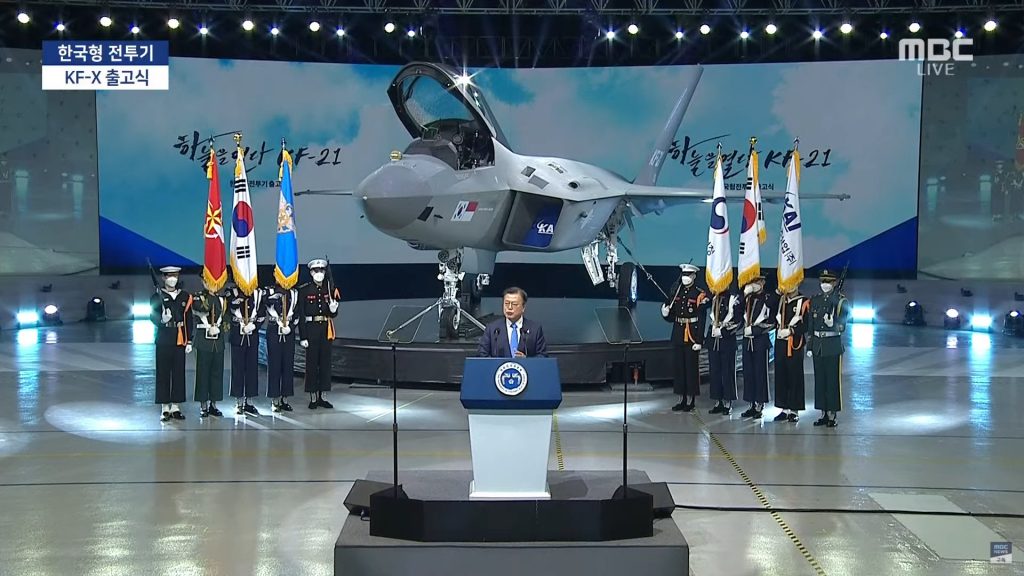 Currently there are also seven prototype aircraft are being assembled simultaneously. The final four
of them are already in the final stages. Under the programme, the soon-to-be ready six aircraft will be used for flight tests while another two will be used for ground tests. Two prototypes variant will be available in two-seater variants.
The first prototype aircraft is expected to make its maiden flight in July 2022 following a year of ground tests. According to KAI, both the second and third prototypes will finish assembly by the end of 2021, while the rest are expected to be completed by next year. Overall development is scheduled to be completed by 2026 following operational deployment of KF-X.
The KF-X is a 4.5th gen fighter jet being developed by KAI in partnership with Lockheed Martin for the Republic of Korea Air Force. Featuring dimension of 16.9m x 4.7m x 11.2m, KF-X is larger than F-16 and is of similar size as the F-18. While bearing outward similarities to the fifth-generation F-35A, the aircraft is more aligned to the F-16 in terms of performance and features. However, its future iterations will have features of the US stealth fighter. The aircraft is expected to fly at a maximum speed of Mach 1.81, having a range of 2,900km and maximum payload of 7,700kg. The fighter will contain 10 pods for missiles and fuel tanks. It will be able to carry several types of air-to-air missiles, such as Germany's IRIS-T and MBDA's active radar guided Meteor missiles.
Development of the KF-X began in earnest on January 2016 and the assembly process began in 2019 after Critical Design Review (CDR) was completed in 2018. KF-X will operate alongside more advanced F-35A in ROKAF inventory. Total completion of ground and flight tests are expected around 2026. Forty units are planned to be delivered to RoKAF by 2028 and another 80 units by 2032. The KF21 is to replace the Air Force's fleet of F-4 and F-5 jets. -shp/adj/kf (PHOTO: Munwha Broadcasting Corporation)