Conclusion of A330MRTT Auto Refuelling System Development Phase
The Airbus A330 Multi Role Tanker Transport (MRTT) aircraft has completed its automatic refuelling system (A3R) development phase after a successful flight trial campaign, the aircraft maker said today.
This campaign came about after Airbus and Singapore agreed in February 2020 to collaborate on the A330 SMART MRTT programme, to develop, certify and implement A3R capability, as well as enhanced maintenance solutions for the A330 MRTT.
The trial was conducted, in collaboration with the Republic of Singapore Air Force (RSAF) and Singapore's Defence Science and Technology Agency, taking place in Singapore in early 2021, a company statement said.
It marked the inaugural participation of an A3R-equipped RSAF A330 MRTT acting as tanker and several receivers from the RSAF, including another A330 MRTT and fighter aircraft like the F-16 and F-15SG.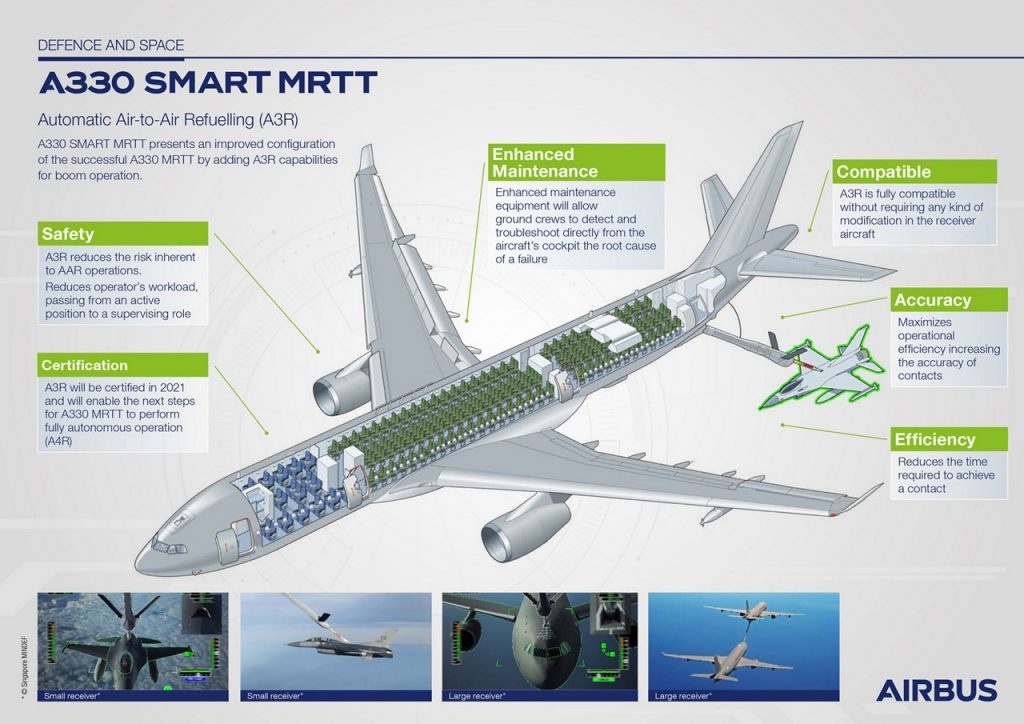 During the trial, a total of 88 fully automated dry and wet contacts and transfers of nearly 30 tonnes of fuel were successfully executed, including the first fully automated operations with another A330 MRTT and RSAF F-16D/F-16D+ receivers.
All tests required for A3R Data Gathering with the F-15SG, including operational flights to demonstrate the A3R performances in a mission representative scenario were also completed. – ab/adj/mgm (Images:RSAF/Airbus Defence)