Philippines Army Took Delivery of Israel Land-based Systems
The Philippines Army (PA) took delivery of 15 M125A2 armored mortar carriers (AMCs), which are equipped with 120mm mounted mortar systems (MMS) recently reported by the Philippines local news agency. The report said the AMCs were delivered on December 29 and were sourced from the Israeli firm Elbit Systems. With the added AMCs the PA Armor Division got a much-needed firepower boost. The AMCs are under Horizon Two of the Revised Armed Forces of the Philippines Modernisation Programme and acquired under the Army's mounted mortar acquisition project.
According to the PA's specifications, the Cardom 120mm recoil mortar system mounted on the M125A2 AMC is an autonomous, computerised system that has a range of 7,000 meters and a maximum fire rate of 16 rounds per minute operated by four crewmen.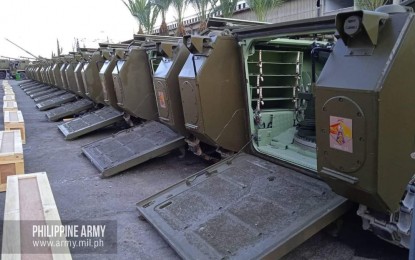 Just before the delivery of the AMCs, it was announced that the Philippine Army is expected to receive 20 new light tanks on tracked and wheel platforms. According to the requirement, Sabrah two man turret equipped with a 105mm gun manufactured by Israeli Elbit Systems will be integrated on to both the tracked ASCOD chassis and on the 8X8 Pandur 2 wheeled armoured vehicle. Both vehicles are from General Dynamics European Land Systems (GDELS) which has been collaborating with Elbit. Deliveries are to occur over a three-year period. These armored vehicles are part of the Army's Light Tank Acquisition Project under Horizon Two of the Revised Armed Forces Modernisation Programme (RAFPMP). The tracked version are to be delivered this year while 10 Sabrah PANDUR II (Wheeled) light tanks, are scheduled to be delivered by 2023.
In the same time period, it was reported that PA has received the 12 ATMOS 2000 155mm wheeled self-propelled howitzers from Elbit Systems. In May 2020, the Philippines Department of National Defenc (DND) acquired two batteries of Elbit Soltam ATMOS 155mm/52cal Self-Propelled Howitzer systems for the Philippine Army under the service's 155mm Howitzer, Self-Propelled System Acquisition Project. The Philippines is now the second country in Asia to use the Israeli-made ATMOS 2000 while Thailand ordered in 2012 six ATMOS-2000 155mm self-propelled guns to be delivered between 2014 and 2015. The ATMOS 2000 is a truck-mounted 155mm self-propelled howitzer designed and manufactured by the Israeli company Elbit Systems.