HAVELSAN Technology Showcase at ADAS 2022
Turkish firm HAVELSAN, which offers new generation end-to-end solutions in the fields of defence, simulation autonomous platform technologies, ICT, homeland, and cyber security, will be unveiling its advanced products and smart solutions to its esteemed visitors during the ADAS 2022. This year's ADAS, held on April 27-29, is not only the first edition organised after the pandemic but also the first ADAS that HAVELSAN participates in with its booth.
In this context, HAVELSAN exhibits on a 70m2 booth space under the ambit of the Presidency of Defence Industries to meet up with the Asia-Pacific audience once again. During ADAS 2022, HAVELSAN's senior management will be pleased to welcome not only the representatives of the Ministry of National Defence, National Security Council, and Armed Forces but also officials from Coast Guard and many other defence and security organisations who will attend the fair from the Philippines and other countries.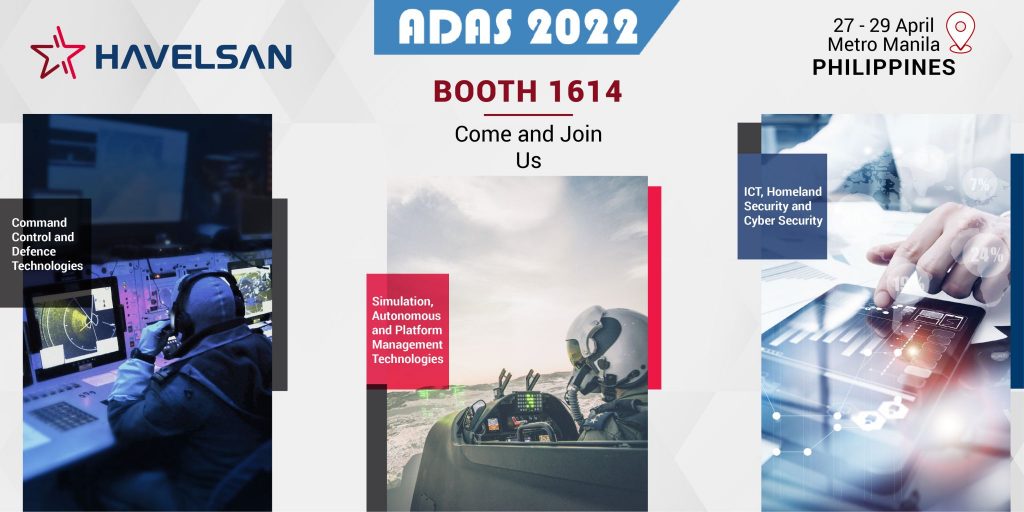 Through the Digital Troops concept, HAVELSAN will show how ambitious it is about cutting-edge technologies while exhibiting its BAHA & BARKAN unmanned systems. In addition to its autonomous platform solutions, HAVELSAN's other simulator solutions, such as the one for the T129 ATAK Helicopter, which has recently been added to the Philippines Air Force inventory; HAVELSAN's command control and defence systems solutions pioneered by ADVENT, which is the New-Generation Network Enabled Combat Management System (CMS) that focuses on the force structure rather than a single ship and responds to the needs of the network-centric operational approach; sonar integrated submarine command control system SEDA,  air command, and control system MARTI, vessel traffic services VTS, coastal surveillance radar system CSRS,  GNSS protection system KASK and its Critical Facility Security and Pipeline Security, city security management system (CSMS) solutions and more will be introduced to the participants at HAVELSAN's booth # 1614.–shp/adj/aaa (Image: HAVELSAN)