Leonardo Technologies for Complete Control Maritime Scenario
Italian heavyweight. Leonardo takes part in the Euronaval exhibition, with ground-breaking technologies for the naval sector. These technologies are the result of continuous investment and transversal skills that have made the company a strategic partner of the Italian Navy and a reference point for many naval forces worldwide, with its systems now integrated aboard more than 1,000 maritime assets.
The company is presenting some of its cutting-edge combat systems management technologies which equip, among other assets, the "Full" configuration of the Italian Navy's multi-purpose offshore patrol vessels (MOPV). These include the open-architecture, modular and reconfigurable combat management system (CMS), which integrates and coordinates all information from the various sensors in real time – providing full situational awareness and an immediate reaction capability – in any context, above and below the water.
The innovative Naval Cockpit is on show at Euronaval, again on board new units, applying cutting-edge concepts in avionics to the naval domain. These concepts were developed by Leonardo in synergy with the Italian Navy to reduce crew workload in operating and monitoring a ship, maximising operational benefits.
Leonardo is presenting the KRONOS Family of radars at Euronaval. This includes the naval version of the KRONOS Power Shield fully digital AESA warning sensor, designed to defend surface units from ballistic missiles. The L-band sensor, with advanced ATBM capabilities, has a discovery range of up to 1,500 kilometres. The high-performance OSPREY 30 electronic scanning radar for maritime surveillance, already chosen by several international customers, will also be on show. This radar is especially suitable for operating in mixed environments such as coastlines.
Alongside these solutions is the ULISSES (Ultra-Light SonicS Enhanced System) acoustic sensor, developed by Leonardo to maximise effectiveness in Anti-Submarine Warfare (ASW) operations on fixed- and rotary-wing maritime patrol aircraft through minimised weight and size, and the Black Scorpion lightweight torpedo, designed to operate with maximum effectiveness and at minimum cost. During the exhibition Leonardo is also presenting the features of the new next-generation electro-optical system DSS-IRST (Distributed Static Staring-InfraRed Search and Tracking System), developed to offer larger naval units maximum protection against multiple surface, missile and aerial threats.
In the field of remotely piloted systems, Leonardo exhibits a full-scale mock-up of the AWHERO helicopter equipped with the Gabbiano Ultra-Light maritime radar. AWHERO represents the state-of-the-art in 200kg class rotary UAS systems, developed expressly for on-board operations, synergistically exploiting Leonardo's experience and best technologies.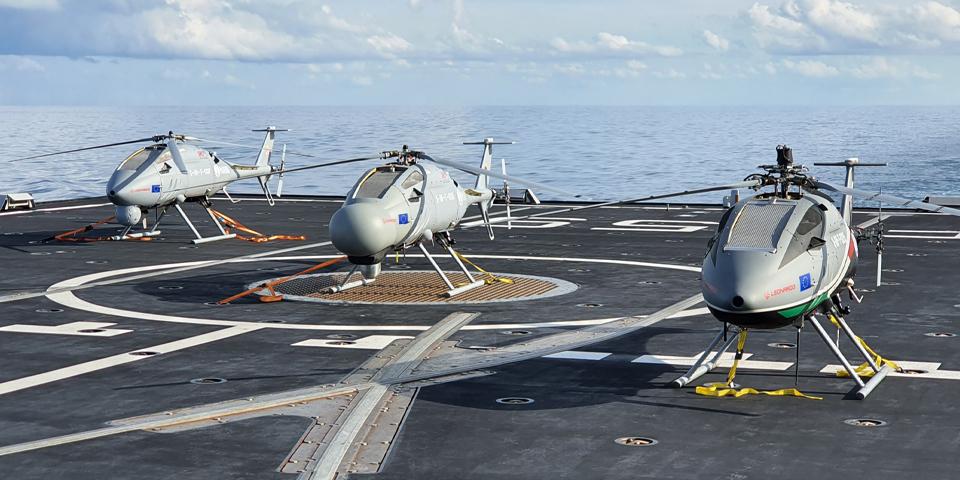 AWHERO's modular architecture makes it interchangeable with a wide range of sensors, including Leonardo's Gabbiano Ultra-Light radar, a crucial element in ensuring maritime surveillance superiority. Already successfully deployed during the Leonardo-led OCEAN 2020 demonstration initiative, AWHERO is the only UAS in its class with military certification, guaranteeing the highest levels of reliability and mission readiness.
In the munitions sector, Leonardo – a world leader also in designing, developing and producing small, medium and large-calibre naval guns (12.7 to 127mm) – is in Paris with its Lionfish line of small-calibre systems, wholly designed and developed in-house. It is also presenting its DART (Driven Ammunition Reduced Time of Flight) guided munitions, effective against manoeuvrable missiles and small targets. Also important to mention is the Vulcano family of munitions in the 76 and 127 versions, a product range – already chosen by several navies worldwide – that ensures total surface dominance and effective air defence. –shp/adj/ldo (Images: Leonardo)