After four years of waiting and a fully digitised 2020 edition during the Covid-19 pandemic, the EURONAVAL show is about to open its doors for its 27th edition, today, Oct 18, 2022. In total, nearly 450 exhibitors, official delegations from more than 100 countries from 5 continents and nearly 25,000 trade visitors are expected all this week in Paris Le Bourget for EURONAVAL 2022.
This 2022 edition is taking place in a particular context, as geopolitical uncertainties and growing insecurity on the oceans are prompting many countries to develop and modernise their navies. Topics that were discussed today at the opening conference of the show held this Monday, October 17 at the Novotel Paris Centre Eiffel Tower, with the participation of Admiral Vandier, Chief of Staff of the Navy, Emmanuel Chiva, General Delegate for Armaments and Pierre Eric Pommellet, President of GICAN.
Organised in partnership with the Fondation pour la Recherche Stratégique (FRS), this symposium, which brought together 300 participants, saw speakers from the political, military, industrial and academic worlds address the major issues of naval defence and maritime security. The event included two panel discussions: "Naval Forces in the Face of High-Intensity Combat" and "Naval War and Technological Benefits".
In his closing speech, Pierre Eric Pommellet summed up this symposium in one word: «cities», echoing the great figures mentioned at this event, and the protection of our cities.
On its opening day, the EURONAVAL show will be visited by the French Minister of Armed Forces Sébastien Lecornu. The Minister will begin his visit at the stand of the Ministry of Armed Forces where a tense microphone will be organized. He will then walk in the aisles of the show and will visit the stands of DICOD and GICAN.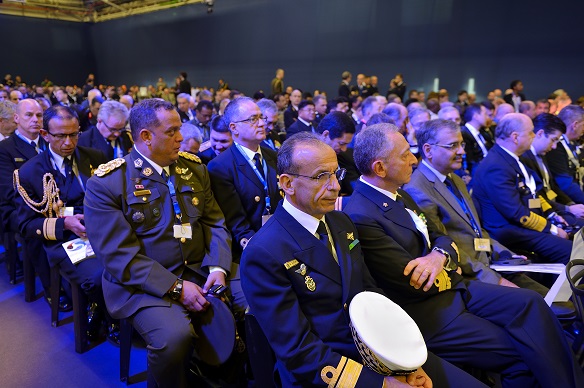 The EURONAVAL exhibition brings together, for each edition, a professional visit composed of political and military decision-makers, expert buyers, prescribers and industrialists who come to discover the latest naval equipment.
Delegates from 118 countries and international organisations were invited, representing about 375 official guests. Among these 118 delegations, there are about forty Marine Chiefs of Staff. Tailor-made visit programmes are drawn up for these official delegations, guided by accompanying officers who ensure compliance with these programmes.
The programme of the EURONAVAL 2022 exhibition, detailing the workshops and pitch sessions is accessible via this link or in paper version at the Commissariat General. –shp/adj/sogena (Image: SOGENA)