Singapore and Indonesian Armies Conduct Join Forces in Bilateral Exercise
Singapore: The 35th edition of Exercise Safkar Indopura (XSI), an annual bilateral exercise between the Singapore Army and the Tentara Nasional Indonesia-Angkatan Darat (TNI-AD), was successfully held in Singapore from Aug 20 to 28, 2023.
The Singapore Armed Forces' (SAF) Chief of Army Major-General David Neo and the TNI-AD's Chief of Staff (KASAD) General Dudung Abdurachman co-officiated the closing ceremony of the flagship bilateral exercise.
This year's exercise saw the participation of approximately 450 personnel from the SAF's Headquarters 3rd Singapore Infantry Brigade (HQ 3 SIB), 2nd Battalion, Singapore Infantry Regiment (2 SIR); and the TNI-AD's 1st Mechanised Infantry Brigade (BRIGIF Mekanis 1), 202nd Mechanised Infantry Battalion (YONIF Mekanis 202) from Military Area Command Jaya (KODAM Jaya), the 8th Calvary Battalion (YONKAV 8) and 9th Engineer Battalion (YONZIPUR 9) from the Army Strategic Command (KOSTRAD).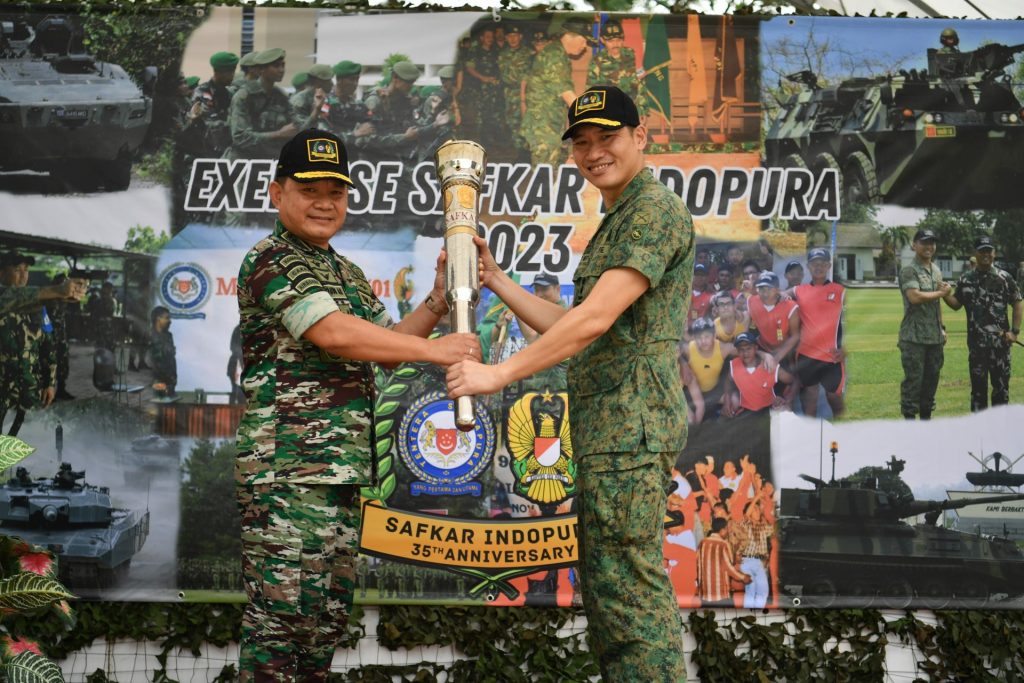 Singapore Chief of Army Maj-Gene David Neo (right) and TNI-AD Chief of Staff General Dudung Abdurachman co-officiating at the closing ceremony of Exercise Safkar Indopura 23.
Speaking at the closing ceremony, Maj Gen Neo commented on the importance of the exercise and said, "Since its humble beginnings in 1989, Safkar Indopura has grown from strength to strength over 35 years, evolving from a map planning exercise in its inaugural series to a battalion field training exercise in 1996 to involving Main Battle Tanks and Infantry Fighting Vehicles in 2017. Safkar Indopura has expanded in scope and complexity over the years, sharpening the professional learning and deepening interactions at many levels."
For the first time, XSI 23 featured a Combined Arms Brigade Command Post Exercise (CPX) and culminated in a joint battalion-level motorised mounted assault on an urban objective at the Murai Urban Training Facility, involving the Leopard 2SG Main Battle Tanks, Leopard 2 Armoured Engineer Vehicle, drones, Apache AH-64D Attack Helicopters and the Airbus H225M Medium Lift Helicopters.
Singapore Army and TNI-AD soldiers performing a cheer during the exercise's opening ceremony.
First conducted in 1989, Exercise Safkar Indopura underscores the close and long-standing defence relations between Singapore and Indonesia. Both countries engage in a wide range of bilateral activities, including exercises, visits, professional exchanges and the cross-attendance of courses. These interactions have enhanced the cooperation and helped foster strong people-to-people ties between the two armed forces. –shp/smdf/nz (Image: Singapore MINDEF)