New CDF, Air Force Chief for Malaysia
Royal Malaysian Air Force (RMAF) chief, General Affendi Buang was appointed as the new Chief of Defence Forces effective Jan 2. He took over the helm from Gen Zulkifli Zainal Abidin who left office due to compulsory retirement. The transfer of command ceremony was witnessed by defence minister Mohamad Sabu. Also present at the ceremony were Malaysian Army chief Gen Ahmad Hasbullah Mohd Nawawi and RMN chief Admiral Mohd Reza Mohd Sany.
Gen Affendi was the second air force chief to head the Malaysian Defence Forces – a post that was often held by the top officer of the Malaysian Army. The last time an RMAF chief took the Defence Forces chief post was in 2009 via Gen (retd) Azizan Ariffin.
Gen Affendi joined the armed forces as an RMAF cadet officer in 1980. He received basic training at the Cadet Officer School in Port Dickson, Negeri Sembilan, followed by basic flying training at Alor Setar RMAF before he was commissioned as RMAF Second Lieutenant in 1982. He was later assigned to No 3 Flying Training Centre in RMAF Kuantan for basic fighter jet training, flying the MB-339A aircraft. He progressed to operational training using McDonnell Douglas A-4 Skyhawk in No 9 Squadron in October 1984 followed by his first operational mission using the aircraft in No 6 Squadron in June 1985.
Gen Affendi was one of the pioneers in inducting the MiG-29 fighter into RMAF's operational capacity. He was also one of the founders of RMAF's MiG-29 aerial acrobatics team, the Smokey Bandits.
From 1997 to 2002, he served under the First Air Division as a staff officer before ending his stint there as Fighter Operation Staff Officer One, who was in charge of the operational readiness of all of RMAF's flight squadrons.
He then furthered his studies at the Centre for Defence and Strategic Studies at the Defence College in Australia. In December 2009, Gen Affendi was promoted as a Brigadier General and was appointed as Operations and Exercise director general at the Air Operations Command Base. At the end of 2010 he took a one-year course at the Royal College of Defence Studies in the United Kingdom.
General Affendi was promoted to the rank of Major General in 2010. In July 2014, he was promoted to the rank of Lieutenant General. He was also appointed as deputy chief of the Air Force in 2015. He was promoted as 18th chief of the Air Force on Dec 21, 2016.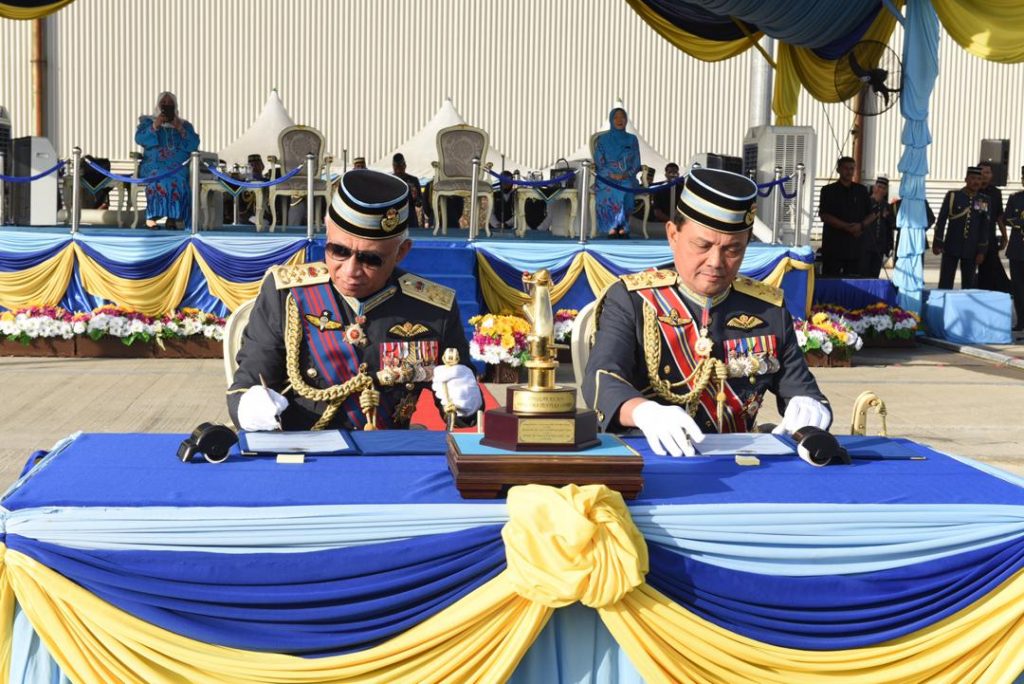 With the promotion of Gen Affendi as Chief of Defence Forces, Lt Gen Ackbal Abdul Samad, was appointed as the 19th Chief of Air Force, and promoted to the rank of General on Jan 3.
Gen Ackbal joined the RMAF service on June 1, 1980. He received basic flying training at RMAF Alor Setar air base, being among the first batch of personnel that were trained to fly the Pilatus PC-7. He was later assigned to RMAF Kuantan air base where he received his fighter jet conversion training to fly the Aermacchi MB-339A. His early career as an operational fighter pilot saw him serving several RMAF air squadrons, starting with the No 9 and No 6 Squadron, flying the Skyhawk A4 PTM, between the year 1985-1988, and later to No 11 and 12 Squadron as an F-5E fighter pilot between the year 1988-1990.
He received his training as a test pilot in the United Kingdom in 1992, where he flew a wide range of aircraft which include the Royal Air Force Jaguar, MiG-29N, Aero-Vodocody L39 Albatross, Hawk T Mk-1, BAE 146, SAAB 2000, and King Air, among others.
Upon his return from the MiG-29N conversion training, Gen Ackbal was entrusted to lead the No 19 Squadron, home to RMAF MiG-29Ns. He was also one of the members of the MiG-29N aerobatic team. His outstanding leadership skills saw him holding various senior posts within the RMAF and Malaysian Armed Forces. He was appointed as Air Operation Commander on November 2010 until October 2014. He was later appointed as Joint Forces Commander, a position that he held until August 2015 before he was reappointed as Air Operations Commander in September 2015. In 2016, he was appointed deputy chief of RMAF.