South Korea go For Aircraft Carrier and Ballistic Missile Submarine
By Isaak Zulkarnaen
SEOUL: South Korea's defence ministry will go ahead with the construction of a 30,000-ton light aircraft carrier capable of supporting the F-35B stealth aircraft and also for the development of a 4,000-ton submarine armed with undersea launched ballistic missiles for the ROK Navy.

A new 2021-2025 defence blueprint unveiled by the defence ministry depicting force modernisation plans of the Republic of Korea Navy included a light aircraft carrier. Towards this end, South Korea's navy has launched a project to see if its LPX-II project based on the Dokdo-class landing ship can be re-designed to operate the F-35B, the short take-off and vertical landing (STOVL) variant of F-35A Lightning II.

The ministry is scheduled to start the basic design of a flat top vessel from next year and complete development by early 2030. According to the Ministry of National Defence 2021-2025 Mid Term Acquisition Plan published Aug 10, the aircraft carrier will be the flagship of the ROK Navy's fleet.
South Korea has ordered 40 F-35A Conventional Take Off and Landing (CTOL) variant of the Lighting II fifth generation fighter, with deliveries to be completed by 2022. The F-35B aircraft for the carrier will be operated by the ROK Air Force and will be acquired separately from 20 additional F-35A it plans to buy. Eventually, the ROKAF will operate total of 80 F-35 aircraft (60 F-35A and 20 F-35B).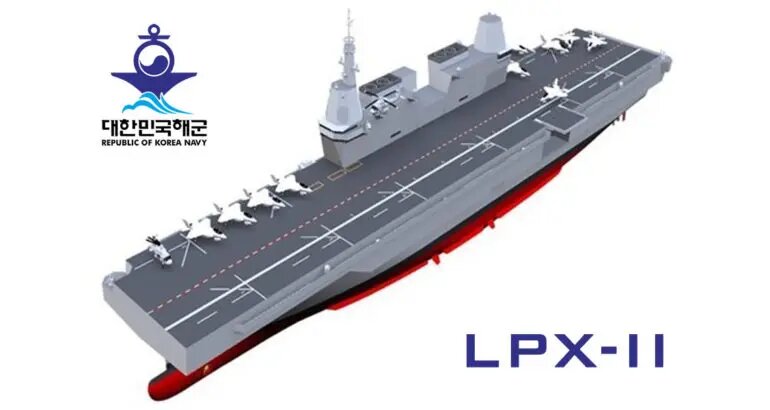 South Korea is not the only Asian country with ambitions to develop a "light" carrier aviation capability for its navy as both Japan and Singapore are actively looking at operations of F-35B from flat top vessels based on amphibious assault ship or landing platform dock designs.
The US Navy's latest class of amphibious assault ships, the 45,000-ton USS America, designated Landing Helicopter Assault (LHA) 6, homeported at the US naval base of Sasebo, Japan, can carry up to nine F-35B, four AH-1Z Viper attack helicopters, 12 MV-22 Ospreys and two MH-60S multi-role naval helicopters.
The force modernisation blueprint also plans for the building of a 4,000-ton submarine. The type of engine was not fixed, according to Korean media reports, opening the way for the construction of a submarine powered by a nuclear reactor.
Among other plans revealed for the armed forces is the development of a Korean version of the Iron Dome missile and artillery interceptor system to protect metropolitan areas and strategic assets from North Korea's long-range missile and rocket artillery attack.
A defence ministry official was cited in a report by Yonhap news agency that the proposed system would be deployed sometime late 2020s or early 2030s. – shp/iz/mgm