Taiwan Opens Fighter Maintenance Hub, to Boost Air Force Capabilities
By Isaak Zulkarnaen
TAIPEI: Taiwan plans to strengthen air force capabilities as the embattled country opened a maintenance centre for F-16 fighters in collaboration with a US defence contractor, as tensions across the Taiwan Strait remain high.
In her remarks during the opening ceremony at the facility in Taichung Aug 28 president Tsai Ing-wen said: "The inauguration of this F-16 maintenance center today will help strengthen our air force combat capabilities, and is also an important milestone in developing our national defence industries, and spurring the internationalisation of Taiwan's aerospace industries."
Vowing that Taiwan wanted to "let the world to see our strong will in protecting the country," she said, "to defend the sovereignty of the Republic of China (Taiwan) and maintain regional peace and stability, we cannot bow to pressure and must have strong national defence capabilities." This new maintenance center, she said, will significantly reduce maintenance time and increase combat aircraft availability.
She expressed confidence that participation by more companies will help strengthen Taiwan's self-defence capabilities and upgrade our aerospace industry including enhancing Taiwan's status in international aerospace supply chains. "I am delighted to see that everyone has come to Aerospace Industrial Development Corporation (AIDC) to witness this important moment together," she added.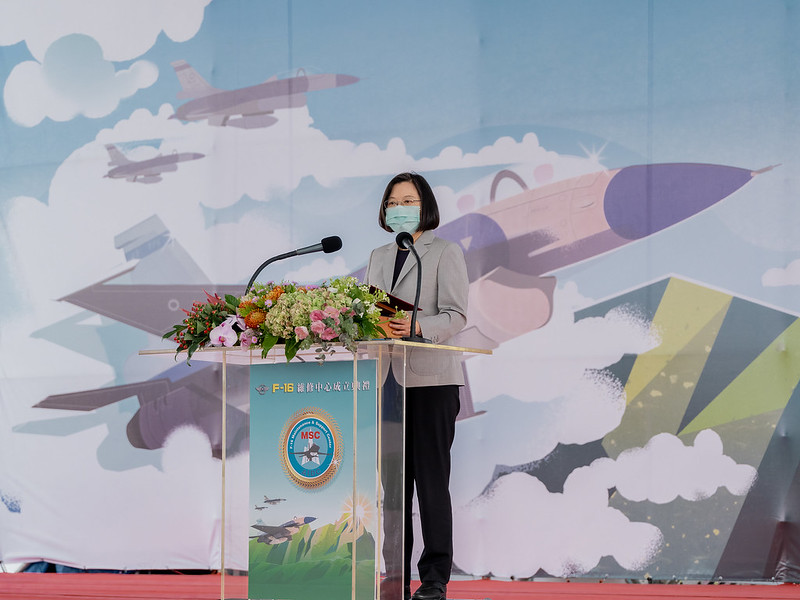 In Aug 15 Taiwan formally signed an agreement to buy 66 of the latest model F-16V (Viper) fighters. The self-ruled island, which China considers a renegade territory, obtained the green light from Washington for the purchase of the new fighters last year.
The centre is part of a "strategic alliance" agreement signed in December between Taiwan's state-owned Aerospace Industrial Development Corporation (AIDC) and Lockheed Martin, which makes the F-16 Fighting Falcon multirole fighter aircraft.
The facility is working on a retrofit programme for Taiwan's 142 F-16A/B Block 20 fighter jets to upgrade them to Viper configuration, similar to the advanced F-16V (Viper). AIDC chairman Hu Kai-hung said at a briefing that it would support the island's F-16 fleet and further develop Taiwan's aerospace industry. Lockheed Martin received a $1.85bn contract from the US Government to upgrade ROC Air Force's existing  Block 20 F-16A/B  fighters  in October 2012. —shp/mgm