South Korea to Start 120-mm Self-Propelled Mortar System Production
SEOUL: South Korea plans to begin production of a new locally developed 120 millimeter self-propelled mortar system later this year, the country's arms procurement agency said.

The Defence Acquisition Programme Administration (DAPA) said the government has decided to sign a $648 million (770 billion won) contract in the fourth quarter to produce the mortar system for deployment next year after a defence project promotion committee meeting.

The new weapon system, which was developed with indigenous technologies and completed in June last year, will replace ageing 107mm mortars equipped on K200A1 armoured vehicle, the agency said Sept 9. The 120mm SP mortar project which began in 2014 saw the participation of the country's major defence companies, including Hanhwa Defense and S&T Dynamics as well as some 100 small firms.
By mounting the 120 mm self-propelled mortar onto the K200A1 armored personnel carrier, this weapon system improves the performance and range of firepower compared to a conventional mortar, according to a Hanhwa Defense data sheet. Its automated fire control system allows for more rapid and accurate firepower support.
The range and firepower of the new rifled, recoiled and mounted mortar system is approximately double what the existing M30 mortar. The range of the new weapon is 2.3 times longer and its firepower is 1.9 times greater than the existing mortars. Its design feature of rotating a full 360 degrees on its own also allows quick response to hitting targets.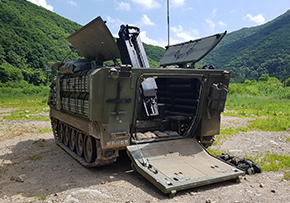 S&T Dynamics, the maker of the mortar gun said it has a  maximum rate of fire of 10 rounds per minute for three minutes and a maximum firing range of 8 km using high-explosive (HE) rounds and 13 km using rocket assisted projectiles (RAP).
"The new mortar system is expected to greatly boost the mission capabilities of our troops," DAPA official Brig Gen. Kim Gi-taek was quoted as saying in an earlier Yonhap news agency report. "We will proactively support its advance into overseas markets, " he added. – shp/mgm
(Photos: Hanhwa Defense and S&T Dynamics)