Boeing Showcases Compact Laser in Air Force Future Battlefield Exercise
Boeing's Compact Laser Weapon System (CLWS) – developed to provide cost-effective, precision air defence capabilities against unmanned aircraft systems – is one of the latest examples of a new technology that the US Air Force sees as integral to the interconnected battlefield of the not-so-distant future.
During a Sept 3 field test of the Advanced Battle Management System (ABMS) at Nellis Air Force Base, Nevada, CLWS successfully defended a force protection convoy against unmanned aerial systems while mounted on a small Utility Task Vehicle, the company said Sept 10.
ABMS is the Air Force's concept for joint all-domain operations – the future of integrated data sharing between all US service branches across the air, land, sea, space and cyber domains. Once implemented, the system will enable everything from autonomous systems and piloted aircraft to ground vehicles and troops to share information via a cloud-based network to detect and respond to threats faster and more efficiently.
"In a future scenario, an integrated and networked direct energy capability – as demonstrated in this exercise by CLWS – would provide operators with vital information and a means to respond to threats at greater speeds," said Ron Dauk, programme manager of Boeing's Laser & Electro-Optical Systems.
Throughout the exercise, CLWS transmitted live video and readings on the threats, as well as various elements of the convoy, to operators at Andrews Air Force Base, Maryland – providing them with both real-time situational awareness and remote operating capabilities. During the scenario, CLWS received a target cue through the network and defeated a simulated unmanned aircraft vehicle.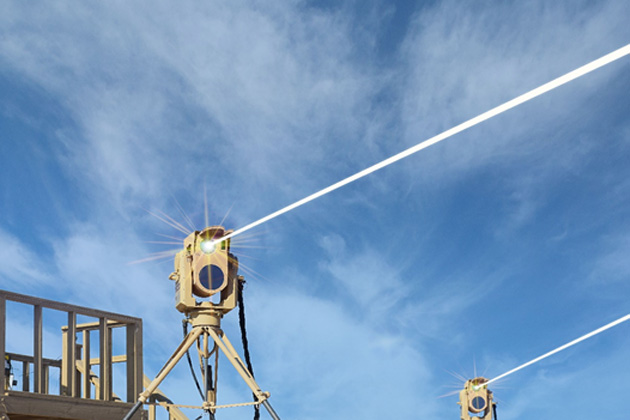 "The ABMS exercise is further proof of Boeing's combat-ready capabilities," said Robert Green, director of Integrated Air and Missile Defense. "Military operators continue to have great success with our systems with only minimal training." Boeing is well-positioned to serve as a key industry partner for the Air Force in directed energy and on the future battlefield. As part of its efforts to accelerate the integration of new technologies to implement ABMS, the Air Force awarded Boeing a development contract in June to compete for individual task orders through 2025. –shp/mhi/mgm   (Photos: Boeing)