CAE Trax Academy: Ushering in A New Era of Military Pilot Training
In recent years, pilot production across all segments of aviation and pilot retention specifically for militaries have become critical issues. Though the current pandemic may have stalled the exodus of pilots from the military to civil aviation sector, this is expected to be a relatively short-term pause and in the not too distant future militaries will again find that pilots are leaving faster than they can be replaced.
As a global leader in training, CAE recognised this trend at an early stage, and has leveraged its expertise to organise the central elements of learning to fly into a training continuum. Using a range of digital technologies, the company has devised a new way of training undergraduate military pilots that provides for greater student throughput, a more engaging and immersive training experience tailored to each individual and more effective use of high-value instructors.
The result is known as the CAE Trax Academy, which features a digitally integrated training ecosystem leveraging virtual and augmented reality, artificial intelligence and data analytics.
At the CAE OneWorld 2021 virtual conference and tradeshow, Head of Technology for CAE's Defence and Security business unit, Philippe Perey described it as "a student-centric system oriented to self-paced training".
Perey added that it is supported by integrated technology and innovative learning tools, which guide, coach, and assess the students as they acquire knowledge and skills.
The CAE Trax Academy organises each building block of the pilot training process into three phases: learn, practice, and perform.
Approaching each element of coursework, such as learning how to fly a specific manoeuvre, the student first learns about the exercise, then practices it until they can undertake it consistently to course requirements. They then perform it in a high-fidelity simulator or real aircraft to demonstrate proficiency to the satisfaction of the instructor.
The entire training process is organised into a learning management system that gives the student on-demand access to courseware and records. After learning the basics of the task, the student is then given a step-by-step tutorial in a virtual reality (VR) environment.
"The progress and accomplishment of the trainee is documented on performance dashboards populated with data drawn from the management system, learning records store, and CAE Rise grading data," said Senior Manager for from the virtual instructor, Steve Davies.
CAE USA's Instructional Systems learning Group. "This allows the student to assess and debrief their own training based on inputs
Data analytics adapts the training to the student's needs to provide an optimal training path for each individual.
CAE is under contract to implement the learning management system (LMS) element of the Trax Academy as part of the Defence Innovation Unit's Pilot Training Transformation initiative for the US Air Force. In fact, CAE is continually enhancing the LMS to make it an adaptive learning system.
Students can then decide for themselves when they are ready to move to the "practice" element of the training.
The practice phase is undertaken using the CAE Sprint VR trainer, which comprises a headset that seamlessly combines in-cockpit and out-the-window views, representative throttle levers, and force-feedback stick and rudder pedals. Vibration and other haptics are also integrated.
The Sprint VR trainer is integrated with CAE Rise and an AI-driven virtual coach for guidance based on each student's performance, and immediate correction and intervention is then provided based on pre-programmed, defined grading criteria.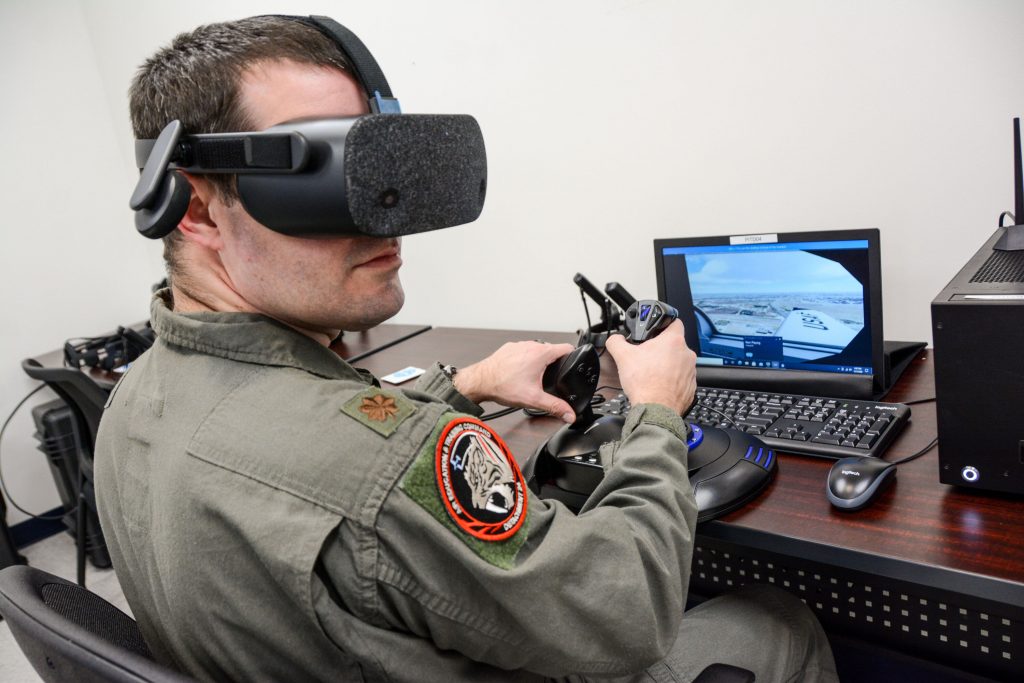 The CAE Rise system – Rise stands for Real-time insights and standardised evaluations – logs data from every time the exercise is undertaken, providing information to both the student and the instructor, permitting them to make any necessary intervention.
Data analytics and AI are used to identify issues that the student is having and flag an appropriate response. Once a high grade has been achieved consistently, the student can then proceed to the next phase, in which the instructor validates the student's progress in a high-fidelity training device or aircraft.
For the critical, but in short-supply instructors, the CAE Trax Academy significantly enhances their efficiency and productivity, says Business Development Manager and Test Pilot at CAE USA, Leon Butler.
"Instructor pilots are time-constrained with growing student training requirements," Butler continued, adding that it is a "real challenge to address all focus areas with a one-size-fits-all training syllabus".
He additionally noted that that there are often inconsistencies in grading between instructors, as well as a heavy administrative burden, both of which can be addressed with CAE's digitally integrated solution.
"CAE Rise gives instructors a new approach to objectively assess competencies, while facilitating a focus on student progress, helping to ensure efforts are focused on the right student at the right time with the appropriate intervention," says Butler.
The CAE Trax Academy training ecosystem can monitor student flying against course training standards to provide real-time feedback and automated documentation, while also enhancing the brief/debrief process and harmonising consistency throughout the training organisation. By using predictive analytics, CAE Rise and its related AI engine can also suggest and model syllabus changes.
The CAE Trax Academy is therefore ushering in a new era of military pilot training. By removing traditional classrooms and a rigid syllabus, pilots can be trained faster while also guaranteeing a high level of training.
Perey concluded: "CAE Trax Academy provides an integrated and comprehensive solution to accelerate pilot training at a significantly lower cost than traditional training."