CAE Exhibits Its Own Counterpart SSE at DSEI
Montreal-based, global training systems integrator, CAE made an impactful presence at DSEI this year with its Single Synthetic Environment (SSE) solution. With the system, CAE offers a new commercial solution designed to help leaders around the world address the increasingly complex and challenging strategic context and situations they face.
Combining decades of experience creating digital ecosystems with CAE's multi-source data fusion and artificial intelligence/machine learning capabilities, information from multiple sources is fused in a single synthetic environment or digital twin.
The result is an integrated visual dataset providing a single contextual view that is further enhanced with course of action analysis to support commanders in decision-making. This digital replica of the real world provides real time insights shared across all levels in the chain of command to support planning, analysis and operational decision-making.
Supporting Military, Public Security
The SSE can be used to support military activities and public safety and security. In the military sphere, the SSE creates an integrated common operational picture, which will deliver enhanced and improved global situational awareness. It will enable decision support and planning from the strategic to the tactical level.
Potential courses of actions and probable outcomes can be simulated, tested and evaluated. A comprehensive means for mission rehearsal, all participants can take part in a detailed, realistic run-through, supporting both strategic and operational wargaming and tactical level rehearsals. It will lead to major gains in operational effectiveness and substantial efficiency savings in the cost of training, support and readiness.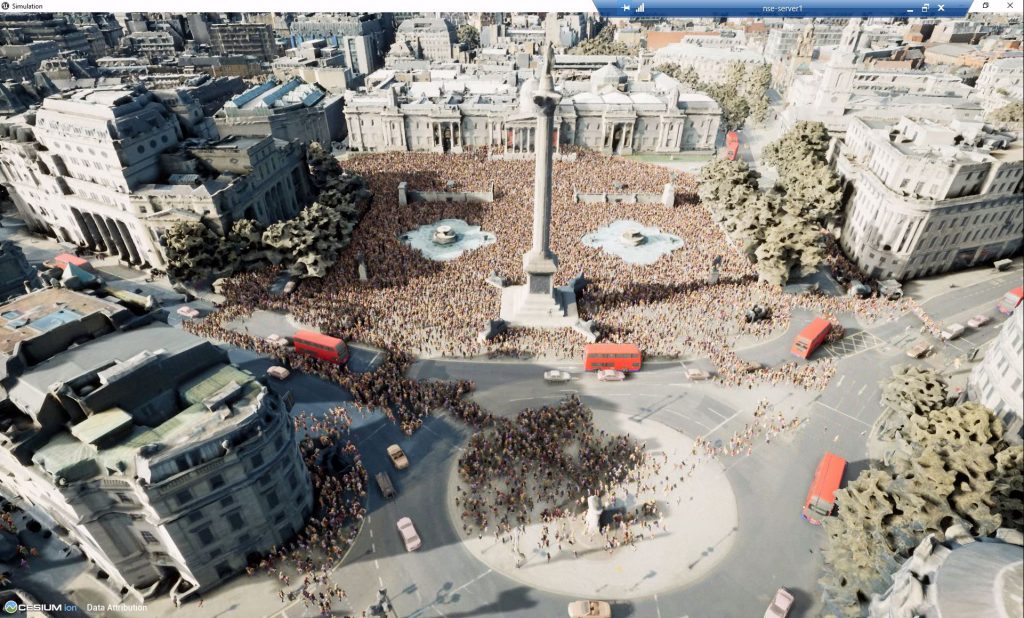 For public safety and security, the SSE supports how policy is made and communicated; how resilience is maintained in the face of natural and man-made disaster, confrontation and/or conflict; and how national security, including border management and counterterrorism, is maintained.
The SSE digital ecosystem gives decision-makers a rich and intuitive picture of how the country works in near real-time. It shows the effect of physical events such as a disaster, epidemic or cyber-attack and how this is reflected in the way people move and how they feel about the situation. Therefore, this is a ground-breaking improvement in collective understanding. This facilitates decision-making process, distribution of resources, and communication of messages. The digital ecosystem can also be used to communicate courses of action between countries, within a country, and between different level of authority.
CAE has been awarded a contract to develop the second technology demonstrator for UK's Single Synthetic Environment. The system will leverage synthetic environments to integrate, synthesize and visualise a myriad of data sources to support analysis, planning, effective operational decision and policy making.
Following its work with Improbable on the UK's Single Synthetic Environment (SSE) programme, CAE uses this year's DSEI to highlight its own National Synthetic Environment. Known as Counterpart, CAE has launched its solution to counter existential threats to national security.
CAE MAD-XR
CAE also features its Magnetic Anomaly Detection-Extended Role (CAE MAD-XR) – a powerful sensor used to detect submarines for anti-submarine warfare. The latest CAE MAD-XR is smaller, lighter and more powerful than previous systems, enabling its use on not only maritime patrol aircraft, but also UAVs and helicopters. The system also play a key role hunting submarines.
 Though CAE is best-known for its training and simulation solutions, the company has been a leader in MAD systems for more than 30 years. The latest CAE MAD-XR is smaller, lighter and more powerful than previous systems, enabling its use on not only maritime patrol aircraft, but also UAVs and helicopters. Watch CAE's David Cooper as he explains how the CAE MAD-XR can play a key role hunting submarines. This is the same CAE MAD-XR being installed on US Navy MH-60R Romeo helicopters as an additional sensor in the US Navy  ASW toolkit.
Meet CAE at DSEI to know more about the company's solutions at booth H8-155. –cae/adj/aaa (Photos: CAE)