MINDEF Confirms Next Edition of LIMA May 2023
KUALA LUMPUR: The Langkawi International Maritime and Aerospace (LIMA) exhibition is officially set to be back on May 23-27, 2023. The Ministry of Defence promised the event to be the best one in the history, to make up for the four-year hiatus due to the concern of the COVID-19 pandemic.
Present at the launching ceremony of the show today were Minister of Defence, Datuk Seri Hishammuddin Hussein and his transport ministry counterpart, Datuk Seri Ir. Dr Wee Ka Siong. Also present were Deputy Minister of Defence, Datuk Seri Ikmal Hisham Abdul Aziz, Malaysian Armed Forces chief Gen Tan Sri Affendi Buang, Malaysian Army Chief, Gen Tan Sri Zamrose Mohd Zain, Royal Malaysian Air Force chief, General Dato' Sri Mohd Asghar Khan Goriman Khan, Royal Malaysian Navy chief Admiral Tan Sri Reza Mohd Sany, and Chairman of LIMA, Tan Sri Mohd Khairul Adib.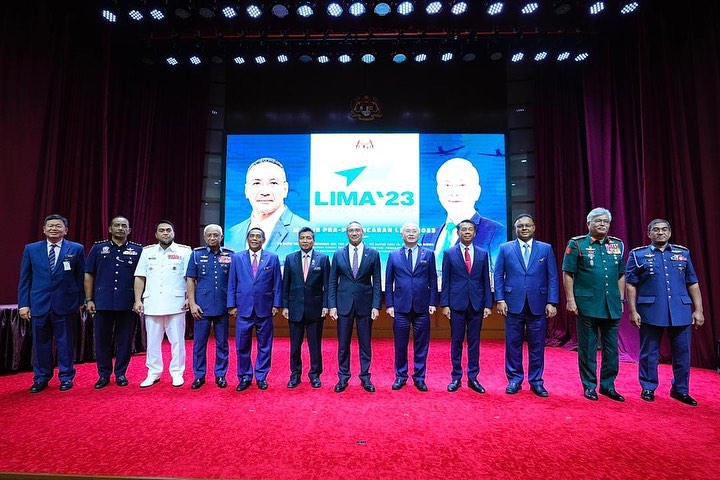 The much awaited show will see the movers and shakers of the aerospace and maritime industry reconvene at the Mahsuri Exhibition Centre to showcase their latest state-of-the-art technology and know-how to fulfil the needs of the international market.
According to MINDEF the holding of LIMA 2023 will be the biggest in terms of the number of exhibitors, country pavilions, international exhibitors, and the star attraction of the show – the number of aerial and maritime assets.
At press time, MINDEF statement said that 600 exhibitors will take part in the exposition, which some them will be exhibiting under the ambit of 20 country pavilions. The show is expected to be attended by 45,000 business visitors and 380 international delegations from more than 40 nations. LIMA 2023 will also be seeing some 110 maritime and 110 aircraft to be showcased either as static or aerial displays.
The Langkawi show's 16th iteration will see the Alpine Integrated Solution Sdn Bhd as the organiser, with full support from the Malaysia's Ministry of Defence and Ministry of Transport.
LIMA is one of Asia-Pacific's most awaited aerospace and maritime exposition that has been held since 1991. The biennial show, which was previously scheduled to be held in 2021, was cancelled due to global health concerns on the spread of the COVID-19 pandemic. –shp/adj/aaa (Image: MINDEF)