Australian and Malaysian Air Force Strengthen Cooperation Through Bilateral Exercises
The Royal Malaysian Air Force (RMAF) and Royal Australian Air Force (RAAF) have once again proven their unwavering cooperation through long-standing series of exercises held between Nov 7-18, 2022 over the land and skies of Butterworth, Malaysian Penang-state.
Exercise Elangaroo 22 and Exercise Paradrop, Air Defence, Insertion, Strike, Search and Rescue and Extraction (PARADISE), held for 12 days, saw the participation of more than 1,100 personnel of RAAF, RMAF, Malaysian Army, and the Royal Malaysian Navy combined.
More than 30 sir assets and supporting elements were deployed to the exercise which include the Sukhoi Su-30MKM fighter, Boeing F/A-18D, BAE Hawk, Airbus A400M and CN-235 transporter, Airbus Helicopters EC-725 AP, Leonardo AW139, and Lockheed Martin C-130H, from the RMAF, together with their elite Special Forces (PASKAU) and Air and Ground Defence Force (HANDAU).
The supporting elements consisted of ground-based air defence system (GBAD), and air delivery section. The exercise also saw the deployment of equipment and systems of the Malaysian Army and Royal Malaysian Navy. Malaysian Army also deployed 12 personnel from No 10 Brigade PARA dan 12 Sqn Royal Army Engineers Regiment.
Meanwhile, for the very first time, RAAF brought in their Lockheed Martin F-35A from No 75 Squadron to the skies of Butterworth.
The crux of the series of drills were RMAF field training exercise (FTX) to keep personnel operational readiness at the optimum level in the mission to safeguard the security of the nation.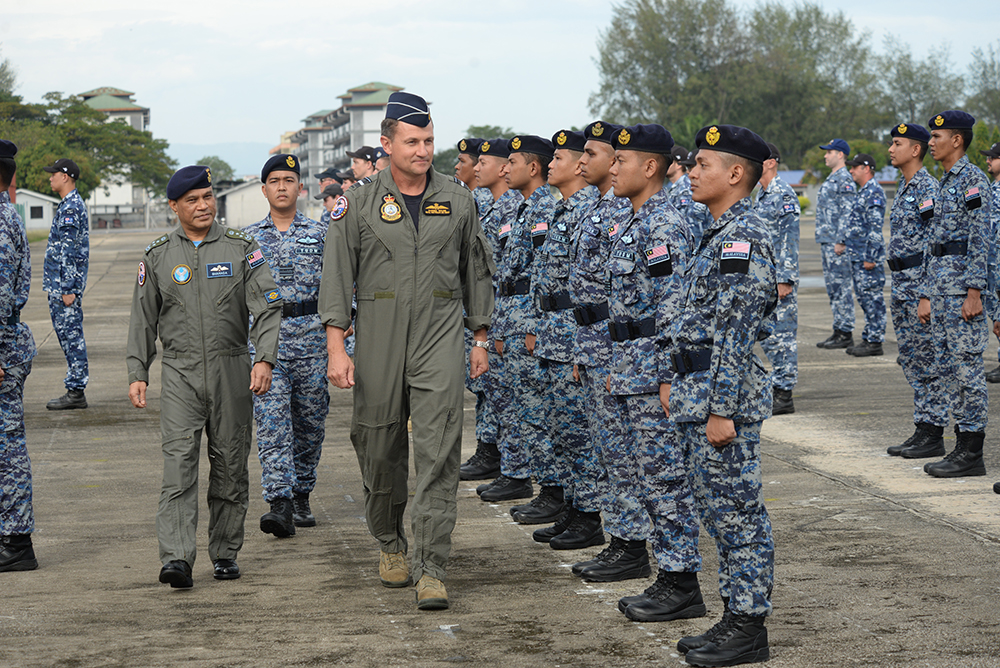 The exercises closing ceremony was held November 18, in the witness of RMAF Air Operations Commander, Lieutenant General Mohd Shahada Ismail and Air Commander Royal Australian Air Force, Air Vice Marshall Darren Goldie.
In his speech, Lt Gen Mohd Shahada impressed on the importance of the exercise in strengthening the long-standing bilateral ties between Malaysia and Australia, since the World War II, especially that have been infused at the RMAF Butterworth Air Base. He further added that this exercise is a good opportunity for both military forces to train together, and provide a different training perspective for the Australian personnel in a different training area.
Also present at the event were RMAF Commander Air Region 1, Major General Mahadzer Amin; Commander Air Region 2, Maj Gen Shamsudin Kassim, as well as senior officials of both RMAF and RAAF, and Australian High Commissions. –shp/adj/aaa (Image: RMAF)