Indian Navy Commissions Second Visakhapatnam-Class Destroyer
New Delhi: India's stealth guided-missile destroyer, INS Mormugao, was commissioned recently at Mumbai Naval Dockyard, in the presence of India's defence minister, Rajnath Singh.
The ceremony marked the induction of the second of the four Visakhapatnam-class (P15B-class) destroyers, indigenously designed by the Indian Navy's in-house organisation Warship Design Bureau and constructed by Mazagon Dock Shipbuilders Limited (MDL), Mumbai.
Also present at the ceremony were Governor of Goa PS Sreedharan Pillai, Chief Minister of Goa Dr Pramod Sawant, Chief of Defence Staff General Anil Chauhan, Flag Officer Commanding-in-Chief, Western Naval Command Vice Admiral Ajendra Bahadur Singh and Chairman and Managing Director of MDL Vice Admiral (retd.) Narayan Prasad.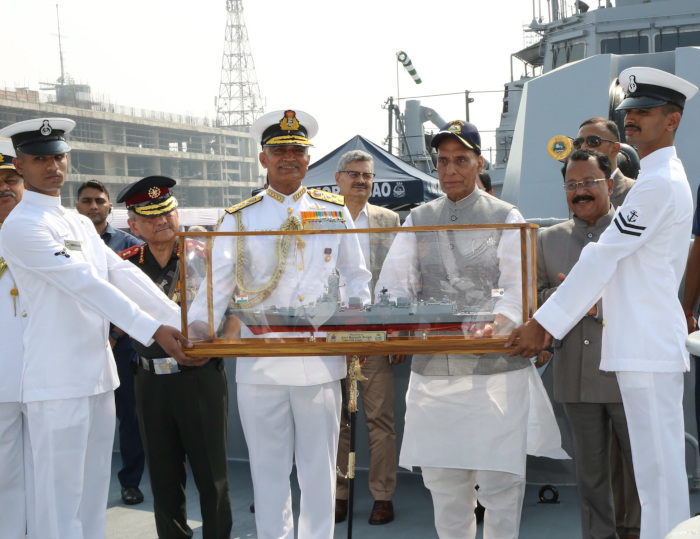 In his speech, defence minister said that the indigenously-built warships which will significantly enhance the country's maritime capabilities and secure national interests.
"INS Mormugao is one of the world's most technologically-advanced missile carriers. With over 75% indigenous content, it is a testimony to India's excellence in design and development of warships and a shining example of our growing indigenous defence production capabilities.
"The warship will meet the present and future needs of our country as well as of our friendly countries across the globe," said Singh.
Singh said that safeguarding India's interests in the Indian Ocean Region as the prime responsibility of the Navy. More so, as India's growing economy is directly connected to the increasing trade, most of which is through sea routes.
The defence minister also praised MDL for growing in stature by continuously building new ships with state-of-the-art technologies. He urged them and other shipbuilding companies to enhance their capabilities by taking advantage of the government's initiatives and move forward towards making India an indigenous shipbuilding hub.
"Countries around the world are today moving towards modernising and strengthening their military power due to the global security scenario. The demand for military equipment is continuously increasing.
"We have introduced a number of policies which will help our public or private sector companies to become world class players," he said.
Meanwhile, Chief of the Naval Staff Admiral R Hari Kumar stated that the commissioning of INS Mormugao is indicative of the large strides India has taken in warship design and building capability over the last decade.
The Admiral added that the warship is a true illustration of making India a self-reliant nation a and realising the Make in India initiative, and it reinforces the Navy's commitment to supporting India's transformation into a global ship-building hub.
The warship, with her multi-dimensional combat capability, will form part of the Western Fleet, he said.
About INS Mormugao
Measuring 163m in length and 17m in breadth with a displacement of 7,400 tonnes, INS Mormugao features sophisticated state-of-the-art weapons and sensors such as surface-to-surface missile and surface-to-air missiles. The ship is fitted with a modern surveillance radar which provides target data to the gunnery weapon systems. Its anti-submarine warfare capabilities are provided by the indigenously-developed rocket launchers, torpedo launchers and the ASW helicopters.
Named after the historic port city of Goa on the west coast, the ship is equipped to fight under nuclear, biological and chemical warfare conditions. it is propelled by four powerful gas turbines, in a combined gas and gas configuration, capable of achieving speeds in excess of 30 knots. The ship has enhanced stealth features resulting in a reduced radar cross section. INS Mormugao could accommodate about 300 personnel.
With over 75% indigenous content, all her major weapons and sensors have been developed and manufactured in India either directly through design and development by Indian original equipment manufacturers (OEMs) or through strategic tie-ups and transfer of technology with reputed foreign OEMs. –shp/adj/aaa (Image: Indian Navy)