Airbus and Vietnam Strengthen Partnership on Space Domain
HANOI/PARIS: France-Vietnam cooperation in space technology marked another important milestone with the signing of a new document to strengthen their existing cooperation on Space domain.
 On November 3, in the presence of French and Vietnamese Prime Ministers, VAST, CNES and Airbus signed a Letter of Intent on cooperation related to Earth-Observation satellite implementation. Prime Minister Pham Minh Chinh arrived in Paris Wednesday for a three-day official visit to France at the invitation of his French counterpart Jean Castex. 
This cooperation is aimed at facilitating the implementation of the "Vietnam Space Technology Program 2020 – 2030" project.
"After the first Earth-Observation satellite system named VNREDSat-1, built by Airbus, launched in 2013 and still fully operational, VAST is currently studying the development of the follow-up VNREDSat-2 Program. This programme should significantly contribute to amplify Vietnamese space capabilities to address Vietnam needs, contribute to the economic development and advancement knowledge for societal well-being,"a joint statement on the ceremony said.
 "In the frame of the VNREDSat-2 program, Airbus will work with VAST to define the solution for the future Vietnamese Earth-Observation system including a transfer of technology program.
Whereas, CNES and VAST will further explore areas of cooperation that will benefit from the VNREDSat-2 program implementation, in particular climate-related cooperation in the frame of the VietSCO program, capacity-building and education. "
State broadcaster Voice of Vietnam (VOV) said, "the prime minister's (Oct 31-Nov 5) working visit to the UK and official visit to France will help consolidate political trust and further deepen multi-faceted cooperation, making relations with those two strategic partners more practical and effective in every field." –adj/nag/iz (Photo: VOV/Airbus)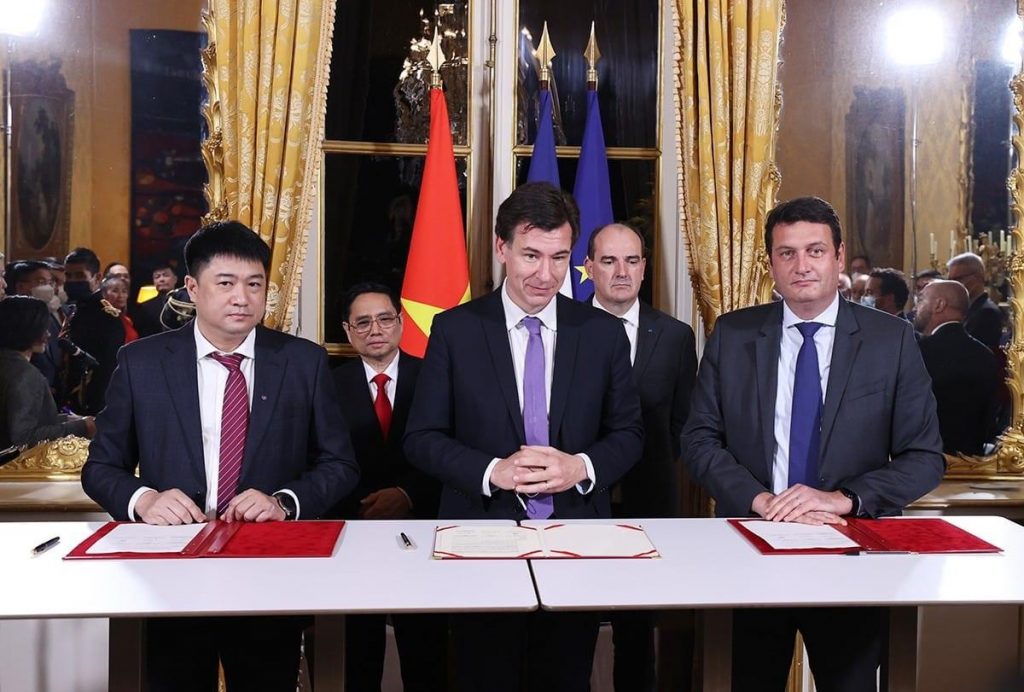 The two Prime Ministers in the background during the signing ceremony