China Launch First Indigenously Built Modern Aircraft Carrier Fujian
China has launched its third aircraft carrier, the Fujian, in Shanghai, marking a milestone for the country's naval shipbuilding capability and the potential of increasing its power projection capability in the near future. The new carrier was put into the water at a launch ceremony June 17.
After leaving its drydock at the shipyard that started at about 11 am Friday, the Type 003 carrier was tied up at a nearby pier, state media reports said. State broadcaster CCTV showed assembled navy personnel standing beneath the massive ship as water jets sprayed over its deck and multi-colored streamers flew and colorful smoke was released.
The carrier, named after Fujian Province, was completely designed and built by China ,according to the official Xinhua news agency. US analysts have said that the new ship is the People's Liberation Army navy's first modern aircraft carrier.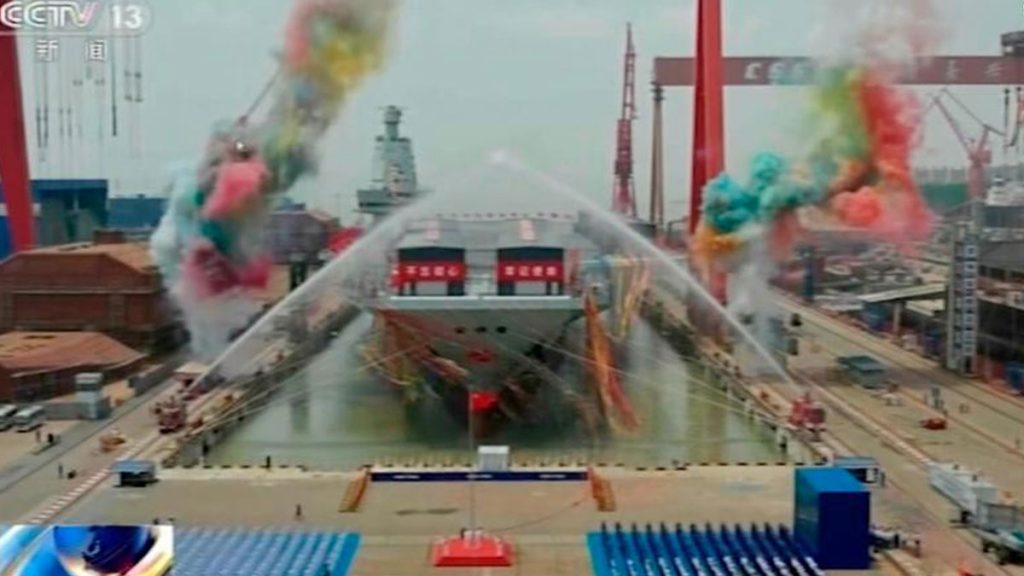 Xu Qiliang, a member of the Political Bureau of the Communist Party of China Central Committee and vice chairman of the Central Military Commission (CMC), presented a naming certificate to the navy unit receiving the carrier, the Xinhua report said.
Approved by the CMC, the Fujian was given the hull number 18. It is China's first domestically-made carrier that uses catapults. With a full-load displacement of more than 80,000 tonnes, the carrier is equipped with electromagnetic catapults and arresting devices. The new carrier will conduct mooring tests and sea trials as scheduled.
The electromagnetic catapult-assisted launch system is a major upgrade from the less advanced ski jump-
style system used on the Liaoning and the Shandong, its two predecessor The new system, similar to the ones used by US aircraft carriers, will allow China to launch a wider variety of aircraft from the Fujian faster and with more ordnance.
China's first carrier was a modified Russian cruiser bought from Ukraine, and its second was built in China but based upon a Soviet design. Both employ the "ski-jump" launch method for aircraft, with a ramp at the end of the short runway to assist aircraft take off.
The Fujian resembles the latest US Navy's super carrier, the Gerald R. Ford which is nuclear powered. The conventionally powered Type 003 "Fujian" employs a catapult launch, thought to be an electromagnetic type system like one originally developed by the US Navy.
"The launch is a major milestone for the People's Liberation Army," a former Pentagon official responsible for China was quoted as saying, adding that it reflected "China's long-term ambitions to project power militarily and compete directly against the United States."
Although China's two initial aircraft carriers has increased its naval air power projection, the PLAN's capability in this area was still far behind the US, which has a total of 11 much more modern vessels in
service. –shp/adj/mgm (Image: Xinhua/CCTV)